Levitated Mass, the much anticipated work by artist Michael Heizer, has finally begun the most daunting and complex phase of the installation process – transporting the 340-ton granite boulder from a Riverside, CA quarry to LACMA. Once the megalith arrives at the museum, crews will install it over a 456-foot long slot constructed on the north lawn behind the Resnick Gallery. Visitors will then be able to walk around, and more impressively under, the massive rock, which I anticipate will be an exciting and awe-inspiring experience. I can't wait!
LACMA has made it easy to track the progress of the megalith over the course of eleven nights with its Gawkers Guide. You can also find lots of information about the artwork, the artist and the transportation and installation processes online. See below for relevant links.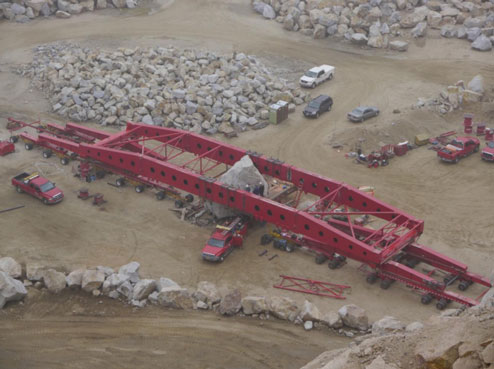 Preparing the megalith for transport at the Riverside quarry. Photo from LACMA Classroom Activity Guide.
More Information:
Leviated Mass Overview
Levitated Mass Transport: Gawkers-Guide
Transport Map
LACMA Unframed Levitated Mass Blog Post
Leviated Mass FAQ