This weekend thousands of book lovers, 200 book dealers, and scholars from around the world will gather in Pasadena for the 45th California International Antiquarian Book Fair. Attendees to this prestigious event will find a wide assortment of printed materials spanning five centuries, including rare and out of print books, maps, graphics, photographs, prints, and autographs, among others. Original manuscripts that predate Gutenberg will also be on display and for sale.
"It's impossible to walk through the aisles of the Book Fair without being wowed by the visual beauty and cultural significance of the volumes on display," said Michael R. Thompson, Book Fair Chair of the Southern California Chapter of the ABAA, which organizes the event. "First time visitors are amazed that they can browse, touch and even go home with items that they imagine could only be found in a museum or special collections library."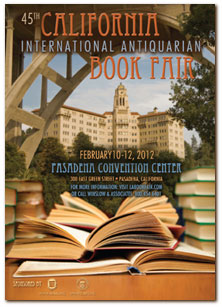 Unlike single topic events that focus on a particular time period or subject area, the California International Antiquarian Book Fair is all about variety. Looking for a rare or out of print book about interior design or jazz, Latin American literature or the Middle East? You'll likely find it here. Do your interests tend towards natural history, classic literature, sports, photography, children's and illustrated books, or the arts? Again, you are bound to find dealers displaying and selling items relating to those subjects. Equally as compelling, items range in price from a few dollars to more than six figures.
In addition to the exhibition, the Fair will present lectures and seminars on book collecting and various themed topics, a special event area for local "book art" artists and organizations, and the opportunity for attendees to receive free "appraisals" on up to three books. You'll find more information about these events here.
The Fair will also feature a special exhibition called "A Love Affair with Books: Personal Stories of Noted Collectors," focusing on contemporary southern California book lovers and preeminent library builders. I am particularly pleased to report that the UCLA William Andrews Clark Memorial Library, which I wrote about in a November 2010 post, will display some highlights from its collection that illustrate its founder and namesake's collecting habits and the collection's history.
Aside from the Clark Library, a few of the other noted collectors who caught my eye include:
Actress Sarah Michelle Gellar collects children's books with an emphasis on the works of Victorian illustrator Arthur Rackham.
Railroad magnate Henry Huntington amassed a spectacular collection of rare books and manuscripts in the fields of British and American history; selected materials from the Huntington Library, Art Collections, and Botanical Gardens.
The Lawrence Clark Powell Collection from Occidental College honors the legendary librarian and literary bibliographer who founded the UCLA School of Library Service.
The Ward Ritchie Collection from Occidental College presents the work of the world-renowned, Southern California-based fine book printer.
Monsignor Francis J. Weber has published and built a big collection of small books all measuring less than 4 inches, located at Azusa Pacific University.
In this day and age when so much of the information that we create and consume is digital, I welcome any event devoted to physical objects that we can hold in our hands, examine, and smell. The Fair connects us with the past in a very tangible way and allows us to celebrate the history of human thought and creative powers. What a wonderful way to spend a weekend.
DETAILS
When:
Friday, February 10, 2012 from 
3 pm to 8 pm
Saturday, February 11, 2012 from 
11 am to 7 pm
Sunday, February 12, 2012
 from 11 am to 5 pm
Where: Pasadena Convention Center, located at 300 East Green Street
Pasadena, CA 91101 (click for map)
Tickets: A three-day admission ticket can be purchased at the door on Friday, February 10th for $25.00. Proceeds from Friday night tickets will benefit the Huntington Library. Tickets purchased on Saturday or Sunday are $15.00 and include return entry throughout the remainder of the Fair. 

ABAA and ILAB members admitted free upon showing membership card. $5.00 off for students with valid identification. If you have been given a VIP Complimentary Pass from an exhibitor, please exchange your pass for a 3-day ticket at the door.
More Information:
Fair Activities
Fair Contacts