As I reported in an October 2010 post, the Los Angeles Planning Department's Office of Historic Resources is undertaking an ambitious program called SurveyLA, which is the first comprehensive effort to identify historic resources throughout the city. Now the Office of Historic Resources has launched an innovative public engagement program called MyHistoricLA, which is intended to get the public directly involved in the survey process through the use of an online technology platform developed by MindMixer.
According to the MyHistoricLA web site, the new program "…is a public participation tool that allows you [a member of the public] to contribute information about important historic resources in your community. This information is used by professional survey teams as they systematically conduct field surveys over a multi-year period. Surveys focus on resources that date before 1980, are within the city boundaries, and that are not already designated."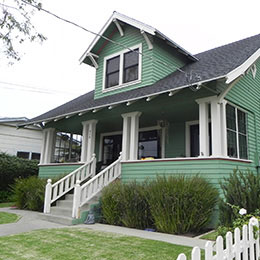 Photo from MyHistoricLA web site.
Aside from tapping into the knowledge that each of us has about our own neighborhoods, the idea behind this online community engagement is to make contributing to the survey process convenient (you can participate anytime, from anywhere) and collaborative (others can propose improvements to your idea, add information and/or express their support). All you have to do is visit the MyHistoricLA web site, create an account and then start sharing your ideas. The more you participate the more points you earn. Apparently those with the most points may win prizes, but the Office of Historic Preservation hasn't worked out all the details yet. Don't let that stop you from participating. Join the conversation!