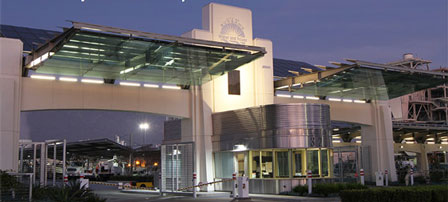 BWP EcoCampus Entrance. Photo from BWP web site.
This weekend Burbank Water and Power (BWP) will host a community celebration and dedication ceremony to mark the completion of California's first comprehensive, sustainable utility campus. Working with Los Angeles-based landscape architecture firm AHBE, BWP has transformed the facility from an aging industrial site into a state-of-the-art regenerative green space and a model for other public and private entities around the nation.
Since this facility is typically closed to the public, attendees will have the rare opportunity to peek behind the scenes and learn first hand how BWP is seeking to generate the water and power that its customers need with the least impact on the environment.
The BWP EcoCampus incorporates five different types of water filtration technologies, including infiltration, flow-through, detention, tree root cells, and rainwater capture. The facility also features three roof gardens and one of the longest Green Streets in southern California, with landscape running across three contiguous city streets acting as a filter before runoff enters the storm water system.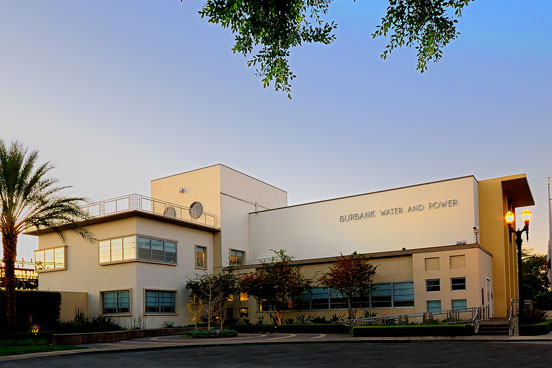 BWP Art Deco Administration Building. Photo by Rick Meyer.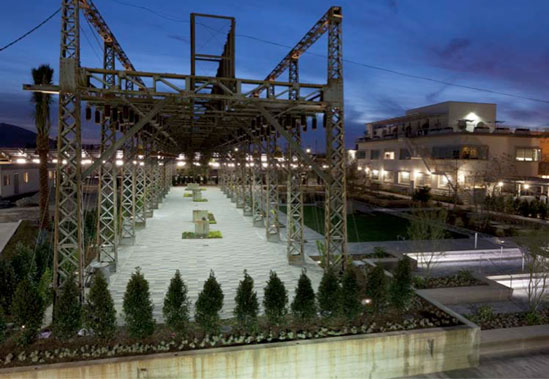 The skeletal remains of an old electric substation repurposed as an outdoor meeting room or super trellis. Photo from BWP press materials.
In addition to embracing sustainable landscape technologies, BWP has sought to preserve, enhance and celebrate the site's architectural heritage. It's also successfully transformed its core power generation facilities into models of efficiency and low emissions.
Click to enlargeAccording to BWP, "three of the State of California's 50 LEED Platinum Buildings are located on the BWP campus, including California's first LEED Platinum designed warehouse. The main administration building was painstakingly renovated to its original Art Deco splendor while upgrading its systems and structure to also achieve a LEED Platinum rating. Construction on the third building starts this month. The Electrical Equipment Building will be completed in March 2013. Architecture firms Leo A. Daly and Tyler/Gonzalez played a key role in making this significant achievement possible."
Burbank Mayor Jess Talamantes, Senator Carol Liu, US Department of Energy representatives Kelly Opatz and Daniel Stricker, and Discovery Planet Green's Sarah Backhouse will be among the special guests at the dedication. Besides touring the facility, guests can learn about the various technologies incorporated into the project, speak with the designers and collaborators, and enjoy a fun, family-friendly day, complete with music, food trucks and children's activities. Burbank residents attending the event will receive a highest-efficiency LED bulb, so bring your drivers license showing your Burbank address.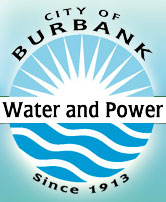 DETAILS
When: Saturday, January 28, 2012 from 10 am – 1 pm
Where: Burbank Water and Power EcoCampus, located at 164 W. Magnolia Blvd. Burbank, CA 91502
Cost: Free
More Information:
Free Parking at Metro Parking Lot on Olive Street. Shuttles will be provided. For more info, please call BWP at 818-238-3730.