Southern California and the Bay Area both boast large and fervently creative communities of jazz-steeped sonic explorers, but there's surprisingly little cross pollination between the two scenes. Hopefully bassist/composer Lisa Mezzacappa's SoCal sojourn this week will set some interesting collaborations in motion. She's performing a series of gigs around the region with her rough and tumble quartet Bait & Switch, a garage jazz band steeped in the avant-garde lexicon of Ornette Coleman, Henry Threadgill, Eric Dolphy, and Rahsaan Roland Kirk.
Since settling in the Bay Area a decade ago, the Staten Island-raised Mezzacappa has been building a national reputation. Her debut album "What Is Known" (Clean Feed) won top honors in the 2010 Village Voice Jazz Critics Poll, tying with Grammy-nominated vocalist Gregory Porter for best debut recording. The album features the same fierce quartet she brings to the Blue Whale on Thursday, with tenor saxophonist Aaron Bennett, guitarist John Finkbeiner and drummer Vijay Anderson.
"As a kid growing up in New York, I used to read the Jazz Poll and see all my heroes," Mezzacappa says. "People still look to New York for jazz, but we're getting more attention and it feels like the West Coast is getting less isolated."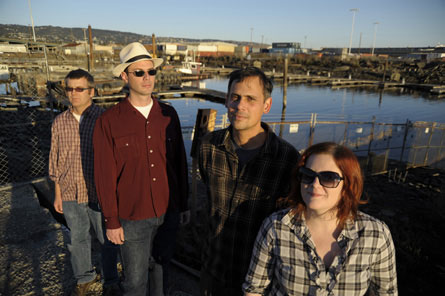 Bait & Switch. Photo: Myles BoisenWhile Mezzacappa released her first album as a leader relatively late in her career, she hasn't been slacking off. A tireless organizer, she's involved in at least a dozen ensembles, like Permanent Wave, an octet she co-leads with saxophonist Kasey Knudsen devoted to the music of Carla Bley, and the powerhouse collective quartet Cylinder with trumpeter Darren Johnston, alto saxophonist Aram Shelton and drummer Kjell Nordeson (which released its first, eponymous album on Clean Feed in March). An avid cinephile, she created and oversees the Mission Eye & Ear series, which brings together Bay Area filmmakers, writers, composers and musicians to create film events with live scores. She puts the same skill set to work in her day gig as Stanford University's campus programs manager, overseeing artist residencies and producing free events on campus.
"It's probably a personality disorder," Mezzacappa says. "There are an infinite number of great ideas, and if no one else is going to make them happen, then I do. The job at Stanford is very similar to my musical life. It's one more version of trying to put some good things into the world and trying to connect."
Self-starters and inveterate organizers have long thrived on California's creative music scene both by necessity and DIY inclination. Mezzacappa has added a welcome jolt of energy, forging deep ties with older underground masters like pianist/composer Graham Connah and saxophonist Phillip Greenlief, a Los Angeles native who has played a leading role in building bridges between musicians north and south. Impressed with her musicianship, brawny tone and far-ranging artistic passions, he recruited Mezzacappa for his trio Citta di Vitti, which plays Greenlief's darkly alluring compositions inspired by the films of Michelangelo Antonioni.
"Lisa is a great player and super smart," Greenlief says. "She grew up in New York and she's a hustler with the let's-get-something-done attitude. It's not about how is this going to help my career. She's looking at the scene and thinking big picture."

Bait & Switch live at the SIMM Series, Musician's Union Hall, San Francisco, April 2009
DETAILS
When: Thursday, November 17 at 9:00 pm
Where: Blue Whale, located at 123 Astronaut E S Onizuka Street, Suite 301, 
Los Angeles
Tickets: Purchase tickets at the door. No reservations.
Free parking with validation.
Enter garage on 2nd street between South Los Angeles St. and South San Pedro St.
21 + over with ID | children under 21 can be accompanied by a guardian
More Information:
Blue Whale – Live Jazz + Art Space
Tel: 213-620-0908
Web: bluewhalemusic.com
Recommended Album
____________
Jazz Pick of the Week is written by Andrew Gilbert. Andy is my brother and a prolific freelance writer whose primary focus is Jazz. You can find his articles in the Los Angeles Times, San Jose Mercury News, JazzTimes and many other publications. He will periodically contribute other articles to Curating Los Angeles and share his expertise and passion for the southland Jazz scene.