The City of Los Angeles currently has 29 Historic Preservation Overlay Zones (HPOZs), commonly known as historic districts, which provide for the review of proposed exterior alterations and additions to historic properties within designated parts of the city. The Los Angeles Conservancy will feature three of those HPOZs as part of its highly popular series of At Home with History tours.
The three neighborhoods that comprise the upcoming tour all recently received their HPOZ designation and are adjacent to one another in the mid-Wilshire area. They were also all developed in the early to mid-1900s and are characterized by their diverse styles and housing types, as well as unique and fascinating histories.
They include:
Country Club Park (Bordered by Olympic Blvd., Pico Blvd., Crenshaw Blvd., and Western Ave.)
Wilshire Park (Bordered by Wilshire Blvd., Olympic Blvd., Crenshaw Blvd., and Wilton Pl.)
Windsor Village (Bordered by Wilshire Blvd., Olympic Blvd., S. Lucerne Blvd., and Crenshaw Blvd.)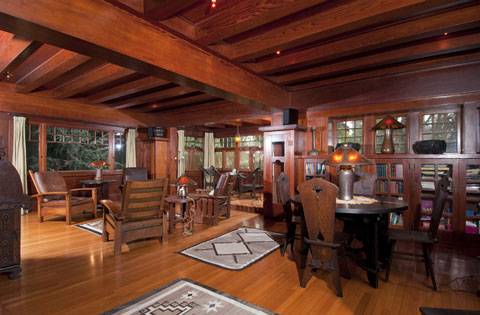 1911 Craftsman style home in Country Club Park. Photo by Larry Underhill via LA Conservancy web site.
According to the Conservancy, "At Home with History is a self-paced tour. You can visit the homes, explore the neighborhoods, and talk with "neighborhood ambassadors" at your own pace, and in whatever order you choose. Visiting all the tour homes will take about four hours."
This special, one-time only event is a unique opportunity to get to know several of LA's grand old neighborhoods a little better and tour homes that are not typically open to the public. If it's like other LA Conservancy events I've attended, it will be well worth your time.
DETAILS
When: 
Sunday, November 6, 2011
10 a.m. to 4 p.m.
$
Where: In the general vicinity of Crenshaw Boulevard and Olympic.
Cost: $40 general public, $30 L.A. Conservancy members, 
$10 kids 12 and under
Tickets: Available online (scroll to bottom of the page)
More Information:
Check out this LA Times Home Section Feature to learn the story behind one of the homes on the tour.