The history of 20th century Los Angeles and the aerospace industry are inextricably linked. Despite the importance of this relationship to the region and the nation, the subject has attracted little attention from scholars. Enter the Aerospace History Project, an initiative of the Huntington-USC Institute on California and the West (ICW). The collaborative research and teaching enterprise's latest undertaking is "Blue Sky Metropolis: The Aerospace Century in Southern California," an exhibition opening at The Huntington Library this weekend.
According to The Huntington, the show "traces the history of local aviation from the early days of barnstorming pilots through the Cold War space race and beyond. In the process, it documents the extraordinary metamorphosis of Southern California itself, transformed from a land of orange groves into a high-tech region."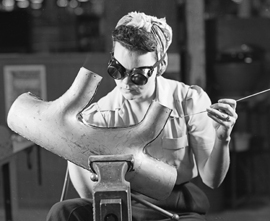 A woman welds exhaust manifolds for airplane engines at Solar Air in 1943. By 1944, women made up more than 40 percent of the aircraft production workforce in Los Angeles. Huntington Library, Art Collections, and Botanical Gardens.Co-curators Peter Westwick and Matthew Hersch will tell their story through "approximately 50 manuscripts, documents, and photographs drawn from The Huntington's growing collection of aerospace related materials and other private and public collections. In addition to archival materials, the exhibition will feature a rocket engine, early satellite models, and a replica of a mid-century engineer's desk with tools of the trade: slide rules, French curves, and a mechanical calculator."
If you want to gain a deeper appreciation for the relationship between aerospace and Southern California, as I do, "Blue Sky Metropolis" warrants a visit to The Huntington. And be sure to leave plenty of time to explore the 120 acres of botanical gardens that surround the library. They are truly spectacular. My particular favorites are the Tropical Garden, the Desert Garden and the Japanese Garden (which is closed for renovation until Spring 2012).
DETAILS
When: October 8, 2011 – January 9, 2012
Where: The Huntington Library, Art Collection and Botanical Gardens, located at 1151 Oxford Rd., San Marino, CA.
Visitor Information: The Huntington is open to the public Monday, Wednesday, Thursday, and Friday from noon to 4:30 p.m.; and Saturday, Sunday, and Monday holidays from 10:30 a.m. to 4:30 p.m. Admission on weekdays: $15 adults, $12 seniors (65+), $10 students (ages 12–18 or with fulltime student I.D.), $6 youth (ages 5–11), free for children under 5. Admission on weekends and Monday holidays: $20 adults, $15 seniors, $10 students, $6 youth, free for children under 5. Members are admitted free. Admission is free to all visitors on the first Thursday of each month with advance tickets.
Related Book: 
An anthology of essays on Southern California aerospace, edited by William Deverell and Peter Westwick, is forthcoming in early 2012 from University of California Press.
Related Podcast: In 2007 The Huntington's Aerospace History Project produced a 28 part audio podcast focused on the Southern California aerospace industry. You can listen to this podcast at no charge either through your browser or iTunes.
More Information:
Tel: 626-405-2100
Web: www.huntington.org