As LA Times Art Critic Christopher Knight pointed out in a recent article, "…retrospective knowledge [of the early years of post-World War II art in Los Angeles] is broad but shallow, a surface barely scratched." Recognizing the dearth of knowledge and understanding of this formative period in the city's cultural development, the Getty Foundation and the Getty Research Institute set out to uncover, document and reclaim the historical record of art in Southern California.
This decade old initiative grew over the past several years into a region-wide collaboration called Pacific Standard Time (PST), which is now culminating in a series of exhibitions across the region at more than 60 cultural institutions. At museums, non-profit spaces, and university and private galleries, you'll have the opportunity to experience a wide range of fine and performance art that is unprecedented in its scope.
Although this highly ambitious art extravaganza officially kicks off this coming weekend, nine exhibitions are already open, such as Icons of the Invisible: Oscar Castillo at UCLA's Fowler Museum, Asco: Elite of the Obscure, A Retrospective, 1972-1987 at LACMA and Peace Press Graphics 1967-1987: Art in the Pursuit of Social Change at University Art Museum, California State University, Long Beach.
To learn more about those shows and all of the other upcoming events, check out the dynamic Pacific Standard Time web site. It features interactive maps of PST venues, family guides, an online recommendation tool to help you figure out what to see, and a comprehensive list of the many exhibits, performances, classes, workshops, tours and talks that will take place over the next six months.
DETAILS
Free Admission
To kick things off, 33 exhibitions will be open to the public free of charge this Sunday, October 2nd. Check out the list of participating venues on the PST web site. Free shuttles will also be available to connect key sites around the region that same day. View the shuttle map and schedule here.
Accommodations
Hotel Packages
Additional Information Sources about Pacific Standard Time
Pacific Standard Time: Art in L.A., 1945-1980
By Christopher Knight, Los Angeles Times Art Critic
September 18, 2011
Reputation and Monolith, Both Stand Tall
By Randy Kennedy for the New York Times
September 15, 2011
Pacific Standard Time Microsite
LA Weekly
Weekly Highlight of Events
Online from For Your Art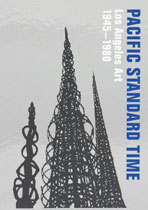 Pacific Standard Time Book from Getty Publications
Learn more and order here