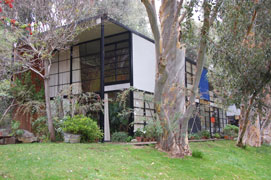 Today the Los Angeles Times published two interesting articles about Case Study House No. 8, more commonly known as the Eames house. Completed in 1949 by Charles and Ray Eames, the landmark Pacific Palisades house is an icon of modern design and a favorite building of mine in Los Angeles.
One of the LA Times articles discusses the temporary relocation and reassembly of the midcentury legends' untouched living room at the Los Angeles County Museum of Art (LACMA) for the exhibition 'Living In a Modern Way: California Design 1930-1965.' Be sure to watch the short time-lapse video documenting how the LACMA team packed up the room piece-by-piece.
'Living In a Modern Way' opens Oct. 1 as part of the much-anticipated Pacific Standard Time collaboration running at dozens of institutions across the region. Curating Los Angeles will cover this very exciting initiative over the next six months.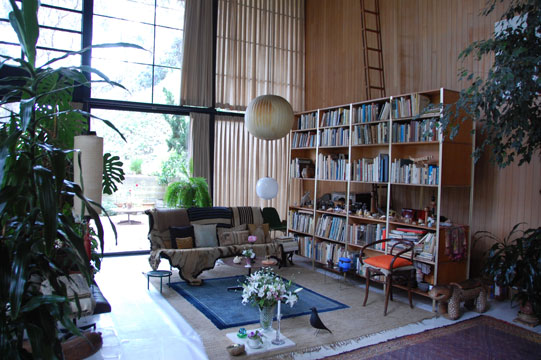 Eames House – Living Room
The companion LA Times article addresses the conservation efforts currently underway to preserve the house and all its contents, which are an integral part of the home and any understanding of Charles and Ray Eames and their design philosophy.  It's a fascinating look into the team approach to this important conservation effort that includes the Eames Foundation, Los Angeles architectural firm Escher GuneWardena, the Getty Conservation Institute and Griswold Conservation Associates.
To learn more about Charles and Ray Eames, you can read an interview I conducted with Jason Cohn about his upcoming documentary, EAMES: The Architect and The Painter. The interview was published in two parts.