In 1962, the City of Los Angeles enacted its Cultural Heritage Ordinance, which enables the five-member Cultural Heritage Commission to designate buildings and sites within the city as local landmarks, called "Historic-Cultural Monuments." Last month this important historic preservation program reached a significant milestone when the Golden State Mutual Life Insurance building, located at 1999 W. Adams Boulevard in the West Adams neighborhood, was designated Historic-Cultural Monument #1000.
The six-story commercial building was completed in 1949 and designed in the Late Moderne style by native Angeleno Paul R. Williams (1894 – 1980). According to the Los Angeles Conservancy, "Williams became the first black architect admitted to the American Institute of Architects and one of Los Angeles' most prominent architects of the twentieth century, with his office responsible for approximately 3,000 built projects."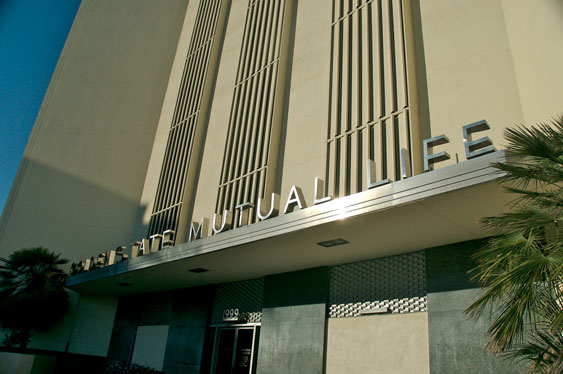 Photo by The City Project
Founded in 1925 by William Nickerson, Jr. (1879 – 1945), Golden State Mutual (GSM) served African-Americans who were denied coverage by other insurance companies due to racial discrimination. At the time it was established, GSM was the largest black-owned business west of the Mississippi.
While the building itself is historically significant, so too are the murals found in its lobby: "The Negro in California History–Settlement and Development" (1949) by Hale Woodruff and "The Negro in California History–Exploration and Colonization" (1949) by Charles Alston. These murals were commissioned by GSM and depict African American contributions to the history of California from 1781 through the founding of the company. According to Norman Houston (1893 – 1981), who was GSM's first employee and later became its president, the murals were intended "…to instill in our young people the knowledge that they had a lot to do with the building of our state."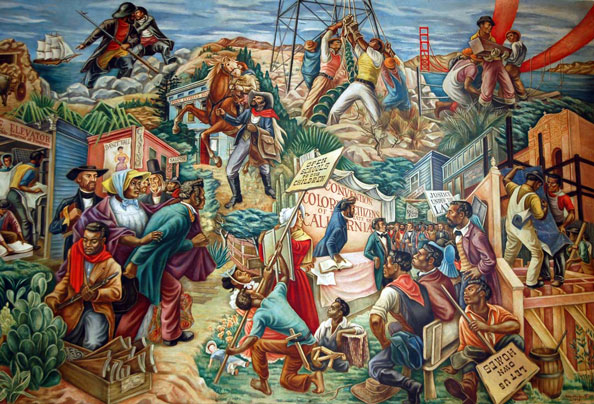 Mural by Hale Woodruff via Golden State Mutual web site.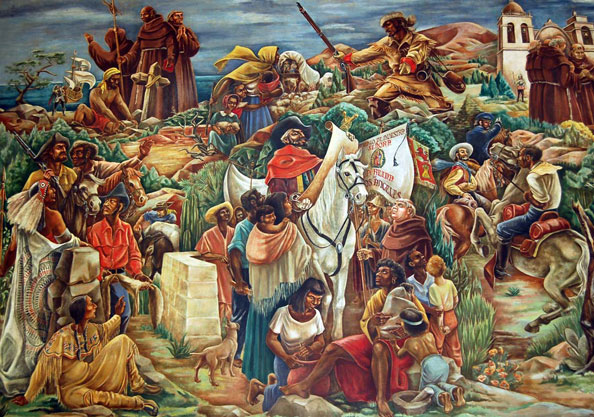 Mural by Charles Alston via Golden State Mutual web site.
Today, the fate of these impressive pieces of art is unclear. GSM has ceased operations and the building is now owned by Community Impact Development, a local non-profit social service organization. While the city's Historic-Cultural Monument designation "identifies the murals as significant character-defining features of the building," there is a legal dispute as to whether they will be considered an asset separate from the building.
To help protect this important part of the city's history, The Los Angeles Conservancy and other community advocates are working to "ensure that this architecturally and culturally significant building and its integrated murals remain intact as a cultural asset to the community."