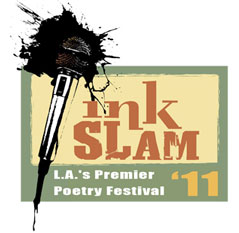 Starting tomorrow and running for four days, lovers of spoken word performance have the opportunity to hear a wide variety of voices at inkSlam, a unique festival that showcases the incredible talent within the spoken word poetry world. Over 50 poets will perform at this year's event, which began in 2009 and has quickly developed into the largest festival of its kind on the West Coast.
inkSlam hosts both an independent poet slam as well as a highly competitive team slam, in which eight slam teams from throughout the nation will compete. inkSlam also gives aspiring poets and seasoned veterans a chance to hone their skills and learn more about the poetry community in daily workshops led by renowned poets such as Shihan Van Clief, Dr. Javon Jonhson, among others.
Anyone who enjoys the excitement of live performance and the thrill of learning first hand about others' lives and experience through the sharing of personal narratives will find something to love at inkSlam.
DETAILS
When: July 13-16
Where: Greenway Court Theatre, located at 544 N. Fairfax Avenue Los Angeles
Ticket: Available online
More Information:
Phone: (323) 655-7679 ext. 100
Web: inkslam.org
Facebook: www.facebook.com/inkSlam
E-Mail: info@inkslam.org