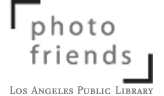 Los Angeles is a city always in flux. Sometimes in what seems like a blink of an eye that familiar building that you passed on your way to work or school is gone, only to be replaced by a new structure, or worse – a parking lot. The same can be said for businesses, which come and go along our commercial corridors and shopping districts on a regular basis.
The rapidity of change in Los Angeles and our short memories are two of the reasons I'm so intrigued by Annie Laskey's collection of slides taken along Wilshire Boulevard during a two-year period in the late 1970s. They promise to transport us back in time – to remind us of what this storied boulevard looked like during a brief period over three decades ago.
The story of how this slide collection came to be sounds as interesting as the slides themselves. According to the Los Angeles Conservancy and Photo Friends of the Los Angeles Public Library, Annie and her mother, Marlene, "…spent about a dozen Tuesday afternoons in 1978-9 walking Wilshire; Marlene taking notes and Annie taking pictures. The result was over 1,000 Kodachrome slides, documenting L.A.'s iconic street from its great landmarks to its empty lots.
Marlene went on to study Urban Planning at UCLA, but passed away from cancer in 1989 before earning her degree. After pursuing a career in theatre, Annie's life came full circle: for the past eleven years, she has run the architectural walking tour program at the Los Angeles Conservancy, and her photos often appear in their publications and on their website.
As for the Wilshire slides themselves, they gathered dust in the Laskey garage for years. Then Annie learned about the Los Angeles Public Library's (LAPL) photo collection and determined to sort, label, and donate the slides. Enlisting the help of Shannon Simonds and Eric Lynxwiler, friends she'd met through the Conservancy's tour program, the slides were put in order, indexed, and finally donated to LAPL in 2010."
One example of this fascinating collection is this photo of Zachary All, the well-known clothing store located on Wilshire in the Miracle Mile. If you lived in LA during the 1950s, 60s and 70s, you'll likely remember both the store and its television commercials, which often featured Edward G. Nalbandian (December 29, 1927 – February 22, 2006), owner of Zachary All Clothing, asking viewers to "Come on down to 5-4-6-7 Wilshire Boulevard". Today that address is home to a Walgreens drug store.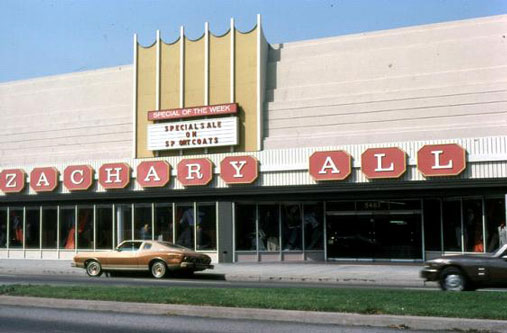 Photo by Annie Laskey
If you want to see more of these images and learn the story behind the entire project, mark your calendars for a slide presentation that's scheduled for this Saturday. It's sure to be a fascinating look back in time.
DETAILS
What: The Wilshire Slides, 1978–79
Presented by Annie Laskey, Shannon Simonds, and Eric Lynxwiler
When: Saturday, July 9 at 2:00 p.m.
Where: Taper Auditorium, Central Library, located at 630 W. 5th Street Los Angeles
Parking: Available at 524 S. Flower St. Garage (show your LAPL library card at the Central Library's information desk to receive validation for reduced rates).
Public Transportation: The Metro Blue Line and Metro Red Line both have stops near Central Library. Most buses that come downtown stop near the Central Library. Check the MTA web site for rates, routes and schedules.
Transportation around downtown Los Angeles is easier if you take the DASH.
Cost of Event: Free
More Information:
Web: Los Angeles Public Library
Photo Friends of the LAPL