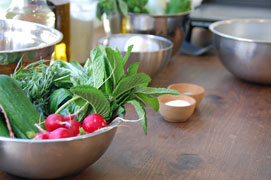 If you read my posts on a regular basis, you'll know that I enjoy participating in local food tours and trying new restaurants whenever I have the chance. I also delight in cooking – although it's not something I do very often.
This past weekend I participated in a unique cooking experience with some friends. Since I plan to write about that adventure in the near future, I'm not going into any details here. Suffice it to say I so enjoyed preparing that meal that I was inspired to create a new section in my Shop LA store dedicated to cookbooks. Of course, since this is Curating Los Angeles, all the books are either by LA area chefs or compilations of favorite recipes by local institutions, such as the LA Times.
If you enjoy to cook and want to learn from some of the best chefs in our city, check out these titles (look for the link "Cookbooks by LA Chefs" in the left hand column of my online store). And while you're at it, please recommend books that I've missed by leaving a comment below. I'll add the best suggestions to the list.
Bon Appétit!