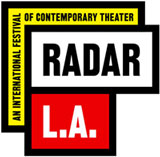 Summer is the time of year when Hollywood releases many of its big budget movies. The weather heats up and so does the box office – at least that's the idea. But what about the local theater scene?
This summer, theater lovers in Los Angeles have a lot to get excited about. One of the upcoming events that recently caught my attention is RADAR L.A., an international festival of contemporary theater produced by REDCAT in collaboration with Center Theatre Group and The Public Theater's Under the Radar Festival (New York).
RADAR L.A. will feature 15 productions by ensembles from Chile, Mexico, Japan and Australia, alongside Los Angeles artists. The diverse subject matter and performance styles represented in the festival are impressive and should satisfy a range of tastes. Here is just a sample of what you can expect.  
Moving Arts: The Car Plays – LA Stories (Los Angeles)


A series of intimate ten-minute plays in which audiences of two move from vehicle to vehicle, experiencing works by different playwrights in a dramatic setting familiar to all Angelenos—the car.
Chelfitsch: Hot Pepper, Air Conditioner, and the Farewell Speech (Japan)


Director Toshiki Okada is known for crafting sharp and visually vibrant works of theater out of the most ordinary of interactions. In Hot Pepper, Air Conditioner, and the Farewell Speech, his performers wrestle with issues as seemingly banal as selecting a restaurant for dinner or the workings of an office climate control system, and as awkward as the departure of a young co-worker.
Ground to Cloud / Miwa Matreyek: Myth and Infrastructure (Los Angeles)


Two artists demonstrate how wordless performance paired with evocative visuals can cast new light on theatrical storytelling. Drawing on centuries-old traditions and new technologies alike, Christine Marie and Miwa Matreyek use the seductive power of the projected image, but through strikingly different means.
These productions, plus the others that make up RADAR L.A., promise to challenge viewpoints, inspire imagination, and educate audiences as only live theater can do.  As an added bonus, they'll accomplish these things at a very reasonable cost to you.
The festival will also offer audience members the opportunity to expand their festival experience in the REDCAT Lounge, where a line-up of DJs and informal performances that highlight experimental Los Angeles artists will fuel the fun all day and late into the night. So go online and review the entire RADAR L.A. schedule. I think you'll agree this is a very special event.
DETAILS
When: June 14–19
Where: REDCAT, LATC, Kirk Douglas Theater, and Los Angeles Street Loft. You'll find the address of each here.
Festival Schedule: Available online
Late Night Lounge:
Tuesday–Friday, 9 am–late
Saturday–Sunday, 12 pm–late
Tickets: Available online
More Information:
Web: http://www.redcat.org/radar-la/home
Live, up to date news and reviews of RADAR L.A.: www.engine28.com (goes live June 15th)