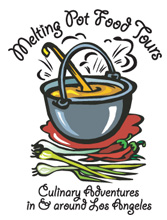 In March my wife and I ventured out in one of those rare southern California downpours to participate in the Old Pasadena Food Tasting Tour run by Melting Pot Tours. Despite the rain, we thoroughly enjoyed ourselves and looked forward to participating in another tour hosted by the same company. Little did I know an opportunity would present itself so soon.
Shortly after posting my review of the Old Pasadena tour, I was invited by Diane and Lisa Scalia, the sisters who own and run Melting Pot Tours, to join them as their guest on their new LA Latin Spice Tour. Needless to say, I jumped at the chance. I love a wide variety of food from Latin America and have always enjoyed exploring East LA. I just don't get there as often as I'd like. So this sounded like a great opportunity to combine two of my interests and get to know the people behind one of the city's foremost food tour companies.
The day began at the Chinatown Gold Line Station, where Diane Scalia met me and the three other tour participants. After brief introductions, we walked across the street to Homegirl Café, a division of Homeboy Industries.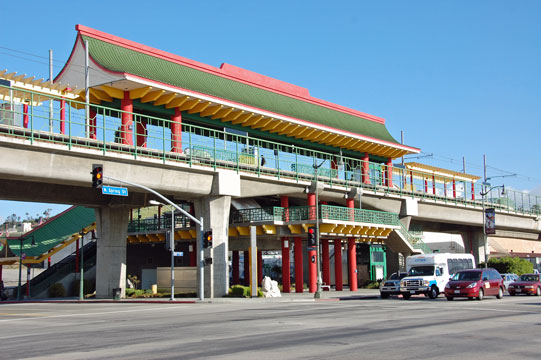 Chinatown Gold Line Station
If you're not familiar with Homeboy Industries, it's a social service enterprise founded by Father Gregory Boyle that assists at-risk and gang-involved young men and women through a wide variety of services and programs, such as training in restaurant service and culinary arts. Homegirl Café offers a one-year training program within the food and service industry, empowering young people to redirect their lives and providing them with hope for the future.
After walking through a container garden located behind the building, where employees grow many of the herbs used in the Café's dishes, we were served delicious chilaquiles, a traditional Mexican breakfast dish consisting of crisp tortillas simmered in salsa and topped with red onions, cotija cheese, crema fresca and cilantro. Some were served with green tomatillo salsa and others with Gabrille's Morita salsa.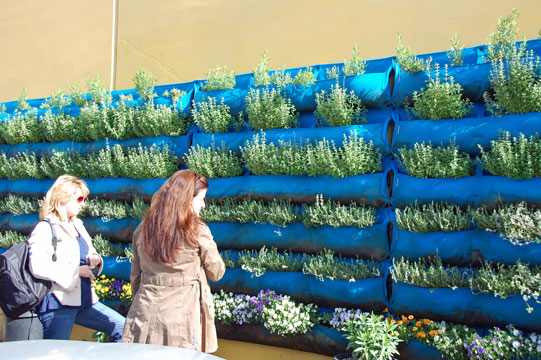 Homegirl Cafe Container Garden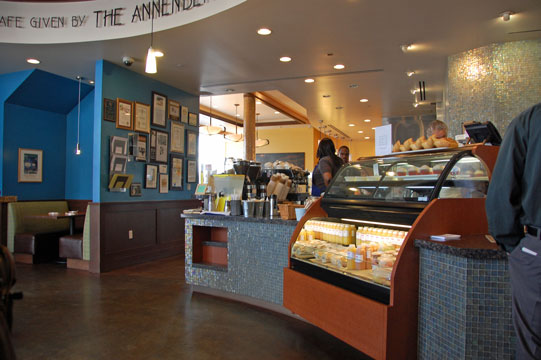 Homegirl Cafe
One of the things I particularly like about the Melting Pot Tours approach is that they don't just focus on food. Diane and her sister make sure you get to know the people and stories behind the businesses that you visit. At Homegirl Café, this involved hearing the personal stories of several young people who work at the Café. While the details were different in each case, the two people we spoke with both recounted how Homeboy Industries had given them an opportunity to learn valuable job skills, understand how a business is run and distance themselves from gang life and/or other negative neighborhood influences, all within a supportive community. Definitely an inspiring way to start the day.
From Homegirl Café, we walked back to the Chinatown Metro Station and boarded an East Los Angeles bound Gold Line train, which we rode over the Los Angeles River to the Indiana Station. Yes, we have a river and I'll be writing about it in a future post.
Once in East LA, we visited five different food related establishments. In the Indiana Station neighborhood, we sampled chile roja con carne tamales and a drink called champurrado at Liliana's Tamales. The tamales were moist and flavorful, and the drink, which is made with milk, cinnamon, corn and Mexican chocolate – let's just say it was delicioso! Given how much my wife and two boys like tamales, I knew I had to purchase a selection for them to sample. Needless to say, they were gone the following day.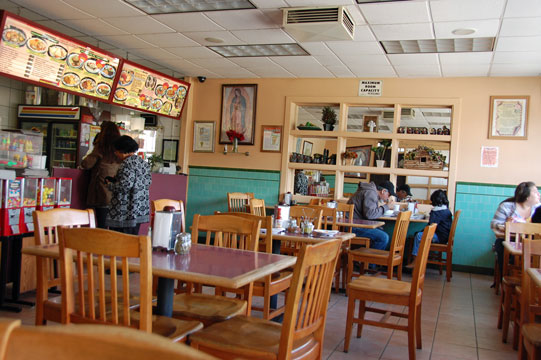 Liliana's Tamales
We also visited the oldest tortilla factory in Los Angeles, which was founded in 1954. It produces one million tortilla's every day, many of which are sold in Whole Foods under the La Gloria brand. While the tortillas that I sampled were tasty, the highlight of this stop (and definitely one of the best parts of the entire tour) was a behind the scenes walk-through of the factory, which makes all of the company's corn tortillas. I love manufacturing facilities and it was very interesting to learn how they produce such a large number of tortillas every day.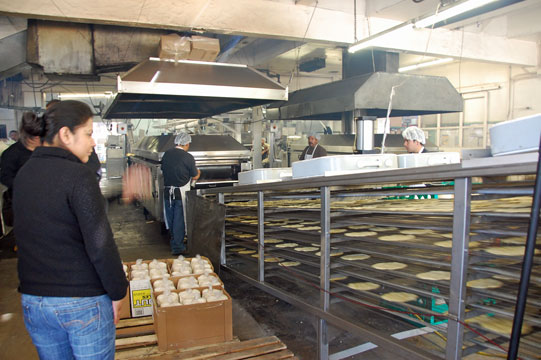 La Gloria Foods
After making our way back to the Indiana Station, we again boarded the Gold Line, this time travelling west to Mariachi Plaza, located in the neighborhood of Boyle Heights, just across the river from downtown LA. Mariachi Plaza is rich in local history and got its name because for decades it's been a gathering place for mariachi groups looking for work at a range of social functions. The 32-room Boyle Hotel, built in 1889 and located across the street from the plaza, has also been the longtime home to many musicians and local families. It's currently undergoing a $24.6 million renovation that will result in a mixed-use residential and commercial project that includes 31 units of affordable housing.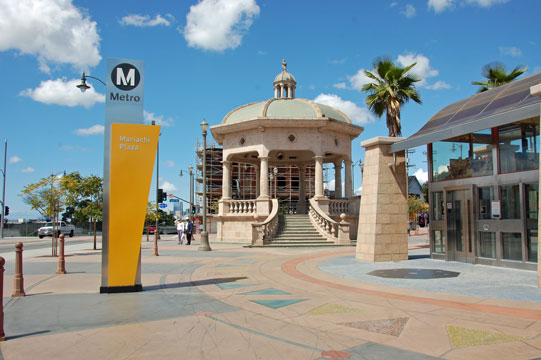 Mariachi Plaza
The stretch of East First Street that bounds Mariachi Plaza to the south is home to some excellent restaurants and cafes. While we didn't visit all of them on the tour, Diane introduced us to some very good ones. My favorite of this group was Birrieria Jalisco. As the name implies, the restaurant specializes in a variety of goat-based dishes and has its roots in the state of Jalisco Mexico, which is where the founding family is originally from.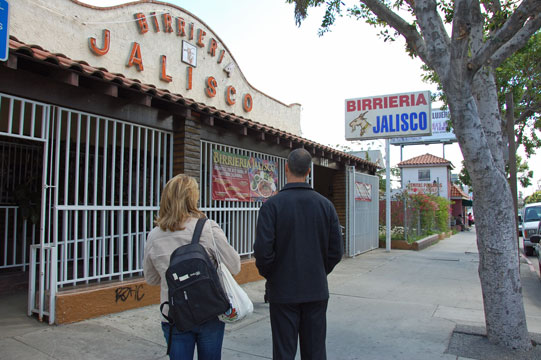 Birrieria Jalisco
It's been many years since I've eaten goat, so I can't really compare what I was served with similar dishes I've had in the past. That said, I found the meat to be moist, wonderfully flavored and probably the most memorable food that I ate during the day. Served with onion, lime, cilantro and corn tortillas, this is comfort food that is well worth a try if you've never had it before.
All in all, I enjoyed this particular tour more than the one in Pasadena. Aside from the better weather, it had the added dimension of being situated in a vibrant neighborhood where you could get a feel for the local community. By contrast, Old Pasadena is a commercial district that doesn't feel like it's part of a neighborhood. That just isn't as intrinsically interesting to me.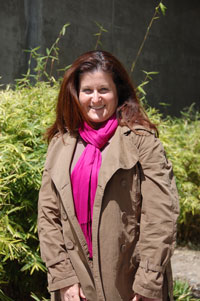 Diane ScaliaAnother difference between the two tours is that this one was lead by an owner of the company who put the itinerary together and established the relationships with the merchants. While our guide in Old Pasadena was very good, she just didn't have the same personal connection with the tour that Diane exhibited in East Los Angeles. That may not be an entirely fair comparison, but the vibe was definitely different on the two tours.
Diane clearly loves what she does and her excitement about the places we visited and the people she introduced us to was palpable throughout the day. I eagerly awaited each stop just to hear her describe how she found the business, who runs it, how they prepare their food and how it fits into the local community. For me, that personal involvement and passion for the food, people and neighborhood made the tour a particularly enjoyable experience and one that I can wholeheartedly recommend to visitors and locals alike. If you're interested in learning about East Los Angeles and sampling some delicious culinary treats with Latin American roots, this tour is for you.