The 2006 Southern California Environmental Report Card, published by the UCLA Institute of the Environment and Sustainability, included a study titled Urban Parks, written by Anastasia Loukaitou-Sideris. It analyzed "the provision and politics of open space in Los Angeles by focusing on three different but interrelated aspects of park politics:
The increasing difficulty faced by municipalities and counties to provide and maintain green open spaces;
The inequitable distribution of parks and urban greenery throughout the Los Angeles urban terrain; and
The challenges of addressing different and competing open space needs for an increasingly heterogeneous public."
The Urban Parks study concluded that the LA Basin is characterized by an inadequate supply of public parks and that those that do exist are unevenly distributed across the region. It also found that existing parks are often inaccessible, perceived as unsafe and often don't serve the needs of many in the community. Despite these significant challenges, the research report concluded that reasons for optimism exist and pointed to a number of hopeful signs, such as voter approval of ballot measures that generate tax revenue for future parkland acquisition and development. It also made several policy recommendations.
Fast forward to 2011 and it's clear that progress has been made towards addressing some of the deficiencies identified by Loukaitou-Sideris. But what exactly has been achieved and how does one understand and contextualize the creation of new public parks in the region? Enter New Park Design in Los Angeles, sponsored by LA Forum, an exhibition that seeks to answer those and other related questions by fostering dialogue among the Los Angeles design community about the current state of public park space and design within the city.
New Park Design in Los Angeles will survey six major parks that are in the design phase, under construction, or have recently been completed. Highlighted projects will include:
DETAILS
When: 
June 2 – July 8
Exhibition Opening: June 2 from 7 – 10 p.m.
Gallery Hours: Fridays – Sundays from 12 p.m. – 4 p.m.
Where: LA Forum Events @ WUHO
WUHO | Woodbury Hollywood
6518 Hollywood Boulevard
Los Angeles, CA 90028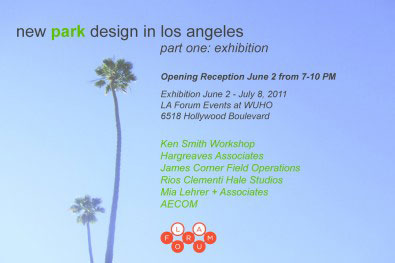 WUHO is located between Metro Redline stops: Hollywood & Vine and Hollywood & Highland. Street parking is available; parking lot in the rear of the building.
Cost: Free
More Information:
Tel: 323-461-648