It's not often you have the opportunity to experience a live performance of Baroque music played on a period instrument, but that's exactly what's taking place this weekend at the Museum of Jurassic Technology. Seats are still available to hear Shirley Edith Hunt on a ca. 1720 bass viol.
Shirley Edith Hunt is a cellist and violist who performs as a chamber musician, soloist, and orchestral player with period-instrument ensembles, modern orchestras, and chamber ensembles of all kinds. Recent engagements include performances with Philharmonia Baroque Orchestra, American Bach Soloists, Voices of Music, Berkeley Symphony, Musica Angelica Baroque Orchestra, Bach Collegium San Diego, Portland Baroque Orchestra, Agave Baroque Ensemble, Archetti, Musica Pacifica, Chicago's Music of the Baroque, and the Los Angeles Master Chorale.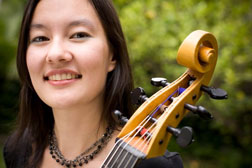 Photo by C.E. CourtneyThe viol Ms. Hunt will play was crafted by Johann Christian Hoffmann, the court violin maker in Leipzig and a friend of J.S. Bach. It was likely used in original performances of Bach's cantatas & Passions. How cool is that!
DETAILS
When: Saturday, May 28th at 
7:00
 p.m.
Where: The Museum of Jurassic Technology is located at 9341 Venice Blvd, Culver City, CA 90232
Directions and public transportation information
Cost: $15 General Donation
 / $13 Museum members, students, seniors
Tickets: Available online
More Information:
Tel. 310-836-6131
Email: events@mjt.org