Here's an interesting concept for an art exhibition. Ask one artist to select another, who in turn is asked to select the next artist, and so on until 40 artists have committed to participate in a group show. It's sort of like the game Telephone, which is exactly what the Torrance Art Museum (TAM) calls its latest exhibition, set to open this weekend.
Why embrace this unconventional approach to assembling an exhibition? According to TAM Curator Max Presneill, Telephone is "a return to our roots…, a way to reconnect to the pleasures of 'curating' without the careerism – stepping back and allowing the artists a part in the decision making process and a way to look at the 'state of the union' for art in LA." It also, he says, "…tells you about what smart, emerging LA based artists respect and look at on a peer level, what they wish to be presented to audiences for its quality of thought and integrity.
Exhibited artists in order of (self) selection:
Eric Yahnker, Ginny Cook, Chris Peters, Julie Orser, Vincent Ramos, Elana Mann, Adam Overton, Margaret Wappler, Andrew Choate, Jeanne Hoel, Madison Brookshire, Alexandra Cuesta, Ben Rodkin, Vera Brunner-Sung, Victor Hu, Tanya Rubbak, William Ransom, Oona Gardner, Christian Tedeschi, Julie Schustack, Thomas Muller, Margaret Griffith, Jamison Carter, Phung Huynh, David Yamamoto, Julia Paull, Shelby Roberts, Betsy Seder, Daniel Ingroff, Christine Frerichs, Asher Hartman, Haruko Tanaka, Patrick Strand, Marisa Sayler, James E Anderson, Ariane Vielmetter, Gregory Michael Hernandez , Melissa Manfull, Alexander Kroll, Renee Petropoulos.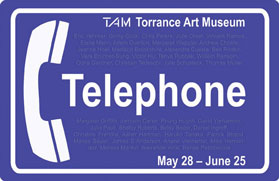 DETAILS
When: 
May 28 – June 25
Opening reception Saturday, May 28th, 6 – 9 pm
Panel discussion: The Cat in Two Hats, begins prior to opening at 4:30 p.m.
Where: Torrance Art Museum is located at 3320 Civic Center Drive 
Torrance, CA 90503
Cost: Free
More Information:
Tel: 310.618.6340
Email: torranceartmuseum@torrnet.com