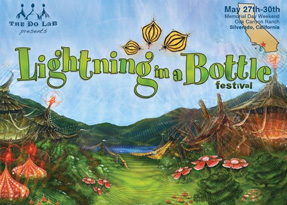 Once again The Do LaB brings their creative energies to the southern California music and arts scene with Lightning in a Bottle 2011, the 10th evolution of their signature festival. The Los Angeles based company specializes in "creating experiences as art form" and has become a fixture at the Coachella Music and Arts Festival for the past seven years. While I unfortunately missed Coachella this year, I attended in 2009 and 2010 and The Do LaB installations were definitely a highlight of the festival experience.
The latest incarnation of Lightning in a Bottle (LIB) will take place this Memorial Day weekend and will feature acts such as Pretty Lights, Thievery Corporation, MiM0SA, KRADDY, Beats Antique, and many more. In addition to great music, dozens of live painters will be scattered throughout the festival grounds creating art – an integral part of LIB that's known as Lightning in a Paintcan. If you fall in love with a particular piece, you'll even have the opportunity to bid on it during a silent auction. All money raised will be donated to The Do LaB's nonprofit – The Do ArT Foundation – in addition to directly supporting each artist.
Rounding out the festival's music and art offerings is the Lucent Temple of Consciousness, described as "a magical village nestled on top of the LIB mountain." There you'll be able to participate in hands-on workshops on a wide variety of subjects, such as micro-farming and growing your own pharmacy, as well as join world-renowned Yoga teachers, all while surrounded by the sounds of sitars, violins, acoustic guitars, beautiful minstrels, tribal drums, and even a man who plays a shovel.
If you have kids and are wondering whether this is a family friendly event, the answer is yes. While many children will enjoy the diversity of activities found throughout the festival grounds, younger children and their parents can also enjoy the Kidz Village, which will offer a range of activities, performances and workshops.
If you don't have plans for the long weekend and you're looking for something to do that can entertain and captivate the entire family, consider spending it at Lightning in a Bottle. It promises to be a great way to usher in summer.
Artwork Creation Music Video
DETAILS
When: The festival opens Thursday the 26th, after 4pm, for camp set up and early arrivals. All festival programming begins Friday the 27th at 7am. All attendees must vacate the festival by Monday the 30th at 4PM.
Where: Oak Canyon Ranch in Silverado, California (that's in Orange County)
Tickets: You can purchase tickets in advance online or at select ticket outlets.
More Information:
Lineup
Schedule by Stage
General Information
Festival Map