With its many museums and art galleries, the Miracle Mile and surrounding mid-Wilshire neighborhood is one of several important centers of LA's vibrant art scene. Home to the Los Angeles County Museum of Art (LACMA), the Architecture+Design Museum, and the Craft and Folk Art Museum, as well as numerous galleries, visitors to this part of the city can easily spend many hours exploring the area's wealth of art venues.
A fun way to really experience the diversity of this neighborhood's arts institutions and galleries is to participate in LACMA's annual ArtWalk. Co-sponsored by the Mid-City West Arts Council, this event features free access to the museums mentioned above, as well as to the Page Museum and Petersen Automotive Museum, which are both in very close proximity to LACMA. Participants can also visit fifteen participating galleries up and down Wilshire and La Brea and a wide range of artist projects. A review of the event program reveals the ArtWalk's diversity, as it plays host to painting, music, dance, readings, film, and conversation.
Here are just a few of the highlights:
Vox Humana Project: Live Mural Painting with LA Art Machine
Founded in January 2010 and based in L.A., Vox Humana is a program of carefully selected live art happenings and mural installations in the U.S. and abroad by celebrated street artists and muralists from around the world. Artists participating at ArtWalk 2011 include Mear One, Jamie Johnson, John Park, Hans Haverson, and more! Plus, don't miss the Urban Fruit Tree by Jean Wells.
Two Centuries of Black American Art: A 35th Anniversary Roundtable
David Driskell, professor emeritus, University of Maryland, returns to LACMA to reflect on the groundbreaking 1976 exhibition, Two Centuries of Black American Art, and the state of African American art today with LACMA curators Franklin Sirmans, Austen Bailly and Brooke Anderson, as well as Bridget Cooks, former LACMA educator and current assistant professor of African American Studies, UC Irvine.
Site Specific Dance Performances Throughout LACMA
A cross section of Los Angeles contemporary dance and movement artists present a series of site-specific performances in Art Catalogues, Urban Light, the Kendall Concourse, Pritzker Parking Garage, and North Lawn.
For detailed information about the entire ArtWalk program, visit the links below under "More Information."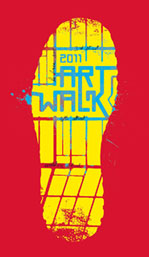 DETAILS
When: 
Saturday, May 14 | 12–8 p.m.
Where: See links below under "More Information" for museum and gallery addresses.
Cost: Free, no reservations
Note: A Gallerina's Guide performed by Heidi Duckler Dance Theatre requires reservations and some performances are already sold out.
More Information:
ArtWalk 2011 Guide
Site Specific Dance Performances
Participating Galleries