Bay Area-raised jazz pianist Taylor Eigsti was already a seasoned veteran when he moved to Los Angeles at 18 to study music at USC, with several albums to his credit and numerous high profile gigs under his belt. Now based in New York City, he returns to LA on Sunday for a performance at Catalina's with his extraordinary quartet featuring vocalist Becca Stevens, bassist Rueben Rogers and drummer Kendrick Scott. He'll be focusing on music from last year's Concord Jazz release "Daylight at Midnight." While always responding to jazz's improvisational imperative, the 26-year-old Eigsti has found inspiration in contemporary pop songs by artists such as Elliott Smith, Bjork, Coldplay, and Nick Drake, essentially building on a jazz tradition that dates back to Louis Armstrong's stunning reinvention of Tin Pan Alley tunes in the 1920s.
Still avidly sought out as a collaborator, Eigsti has truly distinguished himself as a bandleader, and his new melodically inventive quartet brings together a fascinating cast of musicians who have honed highly personal sounds. An accomplished bandleader in her own right, Stevens is a rising force in jazz who draws on folk music from her North Carolina upbringing, West African rhythms, and indie pop. She's probably best known for her luminous vocals with saxophonist Travis Sullivan's Bjorkestra, a jazz orchestra that interprets the music of Icelandic diva Bjork. Rogers is one of New York's busiest bassists, a charter member of ensembles led by heavyweights like saxophonists Charles Lloyd and Joshua Redman, vocalist Dianne Reeves and pianist Aaron Goldberg. And Scott is a dynamic accompanist who has toured and recorded with trumpeter Terence Blanchard.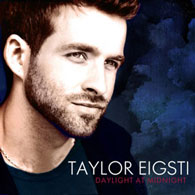 While his bandmates earned sterling reputations in their 20s, Eigsti was barely a teenager when his prodigious keyboard skills started attracting attention. By the time he was 13, he had opened for Diana Krall and Al Jarraeu, and mightily impressed Dave Brubeck while sitting in with the piano patriarch, who remarked, "Taylor is the most amazing talent I've come across." He soaked up bandstand experience during his high school years, performing with luminaries such as vibraphonist Bobby Hutcherson, saxophonist Red Holloway, and vocalist Kevin Mahogany.
Eigsti started documenting his music as a young teen, releasing the first in a series of albums at 14. But it was his gorgeous 2003 trio session with bassist John Shifflett and drummer Jason Lewis, "Resonance," that earned him national recognition. The dynamic trio worked widely, and played an essential role in Eigsti's development as an intrepid improvisational explorer.
With the backing of powerhouse manager Mary Ann Toper (past clients include Diana Krall, Benny Green, Joshua Redman and Jane Monheit), Eigsti signed with Concord Jazz, releasing his major label debut in 2006 with "Lucky to Be Me." The album featured an impressive cast of top-shelf New York cats, including bassist Christian McBride and drummers Lewis Nash, Billy Kilson, and James Genus. His second Concord album, 2008's "Let It Come To You," was an exponential creative leap, mostly because it captured Eigsti in full flight with his hi-octane working band featuring Eric Harland, Reuben Rogers and guitarist Julian Lage.
DETAILS
When: Sunday, May 15 at 7:30 p.m.
Where: Catalina Bar & Grill, 6725 West Sunset Blvd. Hollywood, CA
Tickets: $20 (Dinner or two drinks minimum required in addition to the tickets.)
Reservations: Order your tickets online.
More Information:
Tel: 323-466-2210
Web: www.catalinajazzclub.com
Recommended Albums:

____________
Jazz Pick of the Week is written by Andrew Gilbert. Andy is my brother and a prolific freelance writer whose primary focus is Jazz. You can find his articles in the Los Angeles Times, San Jose Mercury News, JazzTimes and many other publications. He will periodically contribute other articles to Curating Los Angeles and share his expertise and passion for the southland Jazz scene.