This weekend, The Museum of Neon Art (MONA) and the U.S. Postal Service (USPS) are co-sponsoring a party to celebrate the release of the newest USPS first-class "forever" stamp, which is a tribute to neon. Designed by LA-based neon artist Michael Flechtner and USPS art director Phil Jordan, the stamp depicts the word "Celebrate" surrounded by fireworks comprised of brilliantly colored swirls, circles and dashes in pink, blue, orange, yellow and green.
The event will feature a duplicate of Flechtner's original full-size artwork and his 1957 Chevy named Rover, which he drove to Washington D.C. to deliver his neon sign to the USPS headquarters. You'll also find exclusive envelopes postmarked with MONA's logo and signed by the artist, as well as stamps for sale by the USPS.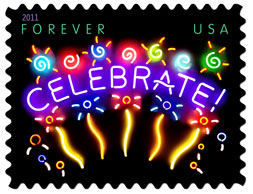 DETAILS
When: Saturday, May 7 from 4-6 p.m.
Where: On The Green at The Americana, 889 Americana Way, Glendale, CA, 91210 (near the intersection of Brand Boulevard & Colorado Boulevard).
Cost: Free
More Information:
Web: neonmona.org or MONA's facebook page
Tel: 213-489-9918