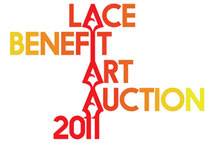 Over the years I've seen some fantastic exhibits at Los Angeles Contemporary Exhibitions, better known as LACE. Now this internationally recognized non-profit arts organization, based in Hollywood and founded in 1978, is holding its annual Benefit Art Auction. Funds raised will help LACE continue nurturing new and emerging artists, foster dialogue among artists and between artists and the diverse community of Hollywood and greater Los Angeles, and develop programs that "…encourage the public to encounter art in their daily existence so that they are engaged by it and also participate in it."
Participants in this year's event will have the opportunity to bid on over 100 works by Liz Craft, Shannon Ebner, Joe Goode, Channa Horowitz, Flora Kao, Arthur Ou, Steve Roden, Erica Vogt, Brenna Youngblood, among many others. In a first for LACE, the 2011 auction will be hosted by Art Platform – Los Angeles, which is produced by MMPI, the same group that mounts New York's Armory Show.
So come on out and participate in this worthy cause. You'll help support an important local cultural institution and perhaps discover a new artist who you weren't familiar with before. You might even place a winning bid and take home a work of art that will enrich your life everyday.
DETAILS
When: Online Bidding begins May 5th, Live + Silent Auction May 19th
Where: The LA Mart, located at 1933 South Broadway, Los Angeles 90007.
Tickets: General $50 advance / $75 door.
Click here to purchase your tickets.
More Information:
Web: www.welcometolace.org
Tel: 323.957.1777
Email: info@welcometolace.org