Ever since the first Harry Potter book was published, readers around the world have been captivated by the magical arts so vividly and compellingly described by J.K. Rowling and subsequently brought to life on the big screen. Now those of us living in the greater LA area have the opportunity to delve into magical history of a completely different kind with tomorrow's opening of two companion exhibitions at the Skirball Cultural Center.
The first, titled Houdini: Art and Magic, comes to Los Angeles from the Jewish Museum in New York, where Brooke Kamin Rapaport curated the show. As you peruse the exhibit, you'll find more than 150 objects, such as film clips, period posters, theater ephemera, rare photographs, and tools of his trade (including a straitjacket, milk can, and Metamorphosis Trunk used by Houdini in many of his escape tricks). The exhibit also includes the work of select avant-garde artists, illustrating Houdini's status as an iconic figure.
The companion show at the Skirball is called Masters of Illusion: Jewish Magicians of the Golden Age, which is billed as "the first museum exhibition to investigate the significant contributions of Jewish magicians to entertainment history and to American and European culture at large." Like the Houdini show, Masters of Illusion includes a wide array of artifacts, such as lithographs, playbills, costumes, stage props, automata, and film and radio clips. It also highlights the accomplishments of Alexander Herrmann (1844–1896), Harry Houdini (1874–1926), Albert "The Great Rameses" Marchinski (1876–1930), The Great Leon (1876–1951), Carl Ballantine (1917–2009), and many more.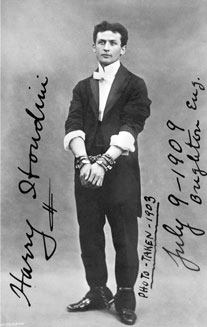 Houdini in chains, 1903, photograph. Library of Congress, Rare Book and Special Collections. Via Skirball web site.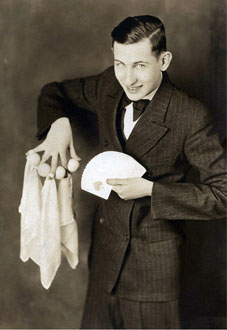 Great Ballantine (1917–2009) with Cards and Balls, c.1935. Courtesy of Saratoga Ballantine. Via Skirball web site.
DETAILS
When: April 28 through September 4, 2011
Where: Skillball Cultural Center, located at 2701 N. Sepulveda Blvd. Los Angeles, CA 90049
Cost:
$10 General; $7 Seniors and Full-Time Students
$5 Children 2–12
Free to Members and Children under 2
Free to all on Thursdays
More Information:
Tel: 310-440-4500
Directions and Parking