Tour companies that take you to conventional, well known LA area destinations such as Grauman's Chinese Theatre, the Hollywood Walk of Fame, Rodeo Drive, 3rd Street Promenade and Universal City, just to name a few, are a dime a dozen. While there is nothing wrong with any of those attractions and I enjoy visiting them myself, there is so much more to greater Los Angeles than those popular sites. You just have to know where to look and who to spend some time with to gain a more nuanced appreciation for the city and its environs.
Enter Richard Schave and Kim Cooper. Their tour company, Esotouric, exposes locals and visitors alike to lesser-known (and sometimes bazaar) aspects of the region's rich history, its varied urban fabric, unappreciated neighborhoods and more. As they explain on their web site, their tours "are provocative and complex, …mixing crime and social history, rock and roll and architecture, literature and film, fine art and urban studies into a simmering stew of original research and startling observations."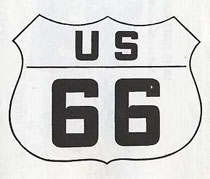 With that in mind, I'm pleased to tell you about two of Esotouric's upcoming bus adventures, both of which take place this weekend and are part of their Reyner Banham Loves Los Angeles series. The first tour is billed as a time travel excursion along Route 66, often referred to as California's Mother Road. This tour will focus on the built environment along Route 66, with an emphasis on old and historic alignments and signage. Along the way, you'll learn about "…oddball roadside attractions, sinister sisters, an ancient hidden graveyard and the many mysteries of the northern San Gabriel Valley."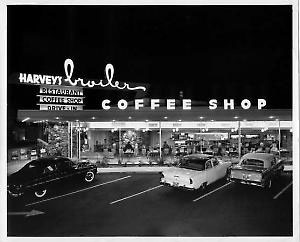 Harvey's Broiler 1958. Photo from Esotouric web site. The second tour of the weekend focuses on South L.A. and features a special guest, legendary automotive engineer Gale Banks, who will share personal recollections about many of the characters who played key roles in the mid-century southern California hot rod scene. This excursion will roll through Vernon, Bell Gardens, Santa Fe Springs and Downey, and promises to explore some of L.A.'s most seldom-seen and compelling structures, as well as "…areas not traditionally associated with the important, beautiful or significant, raising issues of preservation, adaptive reuse and the evolution of the city."
You can sign up for either of these tours separately, or purchase tickets for both at a special discounted rate.
DETAILS
When:
Route 66 Bus Tour – Saturday, April 30 from 11:00 a.m. to 3:00 p.m.
South LA Bus Tour – Sunday, May 1 from 11:00 a.m. to 3:00 p.m.
Where:
Route 66 Bus Tour
Cafe Metropol
923 E. 3rd. Street
Los Angeles, CA 90013
213-613-1537
South LA Bus Tour
Philippe The Original
1001 N Alameda
Los Angeles, CA 90012
213-628-3781
Tickets: Purchase online
Route 66 Tour
South LA Tour
More Information:
Reyner Banham Loves Los Angeles: Route 66
Reyner Banham Loves Los Angeles: South LA