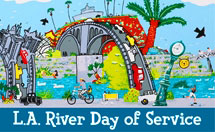 If you're looking for a fun, family-friendly outdoor activity that's also an opportunity to do good in our community, I highly recommend the LA River Day of Service, organized by the City of Los Angeles and Friends of the Los Angeles River. You can volunteer to help remove trash at one of 14 sites along the 51 mile length of the river from the Valley to the Harbor.
Following the morning cleanup, join the Volunteer Celebration at the Rio de Los Angeles State Park. This post cleanup party will feature music by LA based band and culture-mashers, Ozomatli, as well as food.
DETAILS
When: Saturday, April 30
Cleanup from 9 a.m. to 12 noon
Volunteer Celebration from 12 noon to 2 p.m.
Where:
Cleanup
14 cleanup sites are located along the LA River. Select your site when you register. See "How to Participate" below.
Post cleanup celebration
Rio de Los Angeles State Park
1900 N. San Fernando Road
Los Angeles CA 90065
Cost: Free
How to Participate: Follow the Friends of the LA River three-step sign-up process.
More Information:
The City of Los Angeles
Friends of the LA River
Twitter: #lariverday