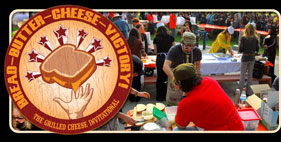 If you've been following my posts throughout the week, you know that I've profiled several really great events happening around the LA area this weekend. One more I want to tell you about is the 2nd 8th Annual National Grilled Cheese Invitational (coming back for seconds?), where amateur and professional chefs compete side-by-side in a grilled cheese cook-off to become Grilled Cheese Champion.
This year, contestants can enter their creations in one of the following four categories:
Love, American Style – The classic: white bread, butter, and orange cheese (American or Cheddar).
The Missionary Position – Any type of bread, butter and cheese.
The Kama Sutra – A savory sandwich using any type of bread, butter and cheese plus additional ingredients.
The Honey Pot – A dessert themed sandwich using any kind of bread, any kind of butter, and any kind of cheese, plus additional ingredients.
Event organizers anticipate that over 30,000 grilled cheese sandwiches will be available for your eating pleasure. Attendees can also expect cooking demonstrations, a costume contest and a cheese calling competition. I have no idea what that last activity is all about – but when you read more about it online it sounds fun.
This is definitely an event I'd like to attend with my family, however, since it's scheduled during Passover, we'll have to pass this year. You just can't enjoy a grilled cheese sandwich without the bread!
For those of you able to make the event, it will likely take place under partly cloudy skies with temperatures in the upper sixties – perfect weather to enjoy warm grilled cheese. So come on out and sample some classic American comfort food with hundreds, if not thousands, of fellow Angelenos.
DETAILS
When: April 23 from 11:00 a.m. – 6:00 p.m.
Where: Los Angeles Center Studios, located at 1201 West Fifth Street Los Angeles
Cost: $12 tix available now ($15 @ event)
Parking: Event organizers recommend carpooling or taking public transportation. There are several $8 lots available in the neighborhood and there is some limited street parking but most of the street parking immediately surrounding the studio will already be occupied by competitors and GCI volunteer staff, so you'll need to look further away from the studio for on street parking.
The best way to get to the Grilled Cheese Invitational and not have to deal with traffic is to take the Metro to the 7th Street / Metro Center station.
From the station, you'll head to Wilshire, walk up Wilshire across the 110 and turn right on to Beaudry.
More Information:
Web: Visit the Grilled Cheese Invitational web site.
Twitter: @grilldcheez.