If you're into electric guitar and fascinated by the intersection of music and technology, there is a lot to love about this upcoming event. Tomorrow evening, Machine Project hosts Nick Didkovsky at their Echo Park gallery and performance space. Didkovsky is a New York based composer, guitarist, bandleader and principal author of the computer music language Java Music Specification Language who teaches computer music composition at NYU and Columbia. He's also well known for his Black Sabbath guitar lessons on YouTube.
For this show, he'll perform works for solo electric guitar, include homebrew music software and take an occasional break to play some classic Black Sabbath guitar solos. Ulrich Krieger will join him to close out the show with a blistering improvised set.
Machine Project is a non-profit collective and community space investigating art, technology, natural history, science, music, literature, and food. They produce numerous free public events and offer an eclectic range of workshops and classes, from MIG welding to sound recording and engineering, all with the goal of making "rarefied knowledge accessible."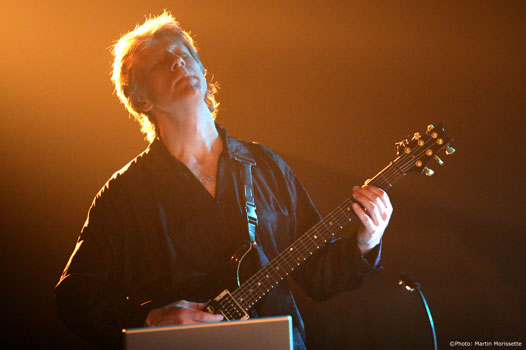 Nick Didkovsky. Photo by Martin Morissette.
DETAILS
When: Friday, April 22 at 8:00 p.m.
Where: Machine Project, located at 1200 D North Alvarado, Los Angeles, CA 90026
Cost: Free
More Information:
Tel. 213-483-8761
Web: Show Details