For many people, cemeteries are places to visit occasionally, and then only to pay respects to dead friends or family members. The owners of Hollywood Forever Cemetery make a concerted effort to give people more reasons to spend time on their grounds and expand their visitor base by hosting a variety of events not typically associated with cemeteries. This Saturday is one such happening.
On April 23rd, the cemetery will host an outdoor art and listening event called Taking Care: 6 Visual Interpretations. This installation will consist of works by six different visual artists, each created in response to one of the songs on the forthcoming album Take Care, Take Care, Take Care by Austin, Texas based band Explosions in the Sky. Pre-recorded versions of each song will be played on loud speakers at six locations throughout the cemetery and will accompany the work of art inspired by that particular song. The new album will be released April 26th – three days after the songs premier at this special listening event.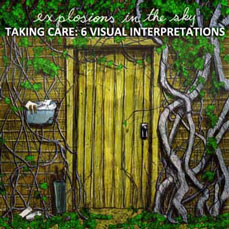 The tracks from Take Care, Take Care, Take Care and the artist interpreting each are as follows:
"Last Known Surroundings" – Matthew Lessner
"Human Qualities" – James Fields
"Trembling Hands" – Matt Amato
"Be Comfortable, Creature" – Jesse Fleming
"Postcard from 1952" – Chris Lipomi
"Let Me Back In" – Alexis Disselkoen
DETAILS
When: April 23. Gates open at 8:00 p.m. 
Cemetery closes at 11:00 p.m.
Where: Hollywood Forever Cemetery, located at 6000 Santa Monica Blvd.
Hollywood, CA 90038
Cost: Tickets are free with RSVP but must be ordered online.
More Information:
Email: events@hollywoodforever.com
Web: http://www.hollywoodforever.com/
Please Note:
This is an art exhibit and listening party featuring the pre-recorded music of Explosions In The Sky. The band will not be performing at this event.
This event is rain or shine.
You can purchase the album Take Care, Take Care, Take Care by clicking on the link below.