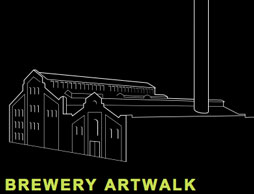 I always look forward to the Brewery ArtWalk, a twice annual open studio weekend held at what the organizers bill as the worlds largest art complex. Each time I've attended I have been exposed to new artists I was previously unfamiliar with, as well as had the opportunity to see the latest work by artists I was exposed to at previous open studio events.
The ArtWalk's physical layout fosters a real sense of anticipation and discovery. As you walk from building to building and down the hallways leading to the open studios of over 100 participating resident artists, you never know what you'll find. When I've taken my kids to this event, they always enjoy racing ahead to see what lies just around the corner in the next studio. It's a lot of fun and helps make this truly a family friendly event.
If you have time this Saturday or Sunday, make a point of visiting the Los Angeles Brewery Arts Complex. You'll have the opportunity to see new works, discover new favorites, speak with the artists and purchase artwork directly from the artists at studio prices.
DETAILS
When: April 16 – 17 from 11:00 a.m. to 6:00 p.m.
Where: Los Angeles Brewery Arts Complex, located at 2100 N. Main Street, Los Angeles
Google Map
Cost: Admission is free and so is parking.
Participants: Spring 2011 List
Event Preview: