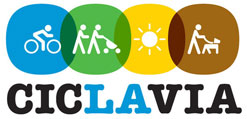 With Los Angeles expecting mostly sunny skies and temperatures in the upper sixties tomorrow, what better way to spend your Sunday than getting outdoors, connecting with the greater LA community and taking a break from the traffic related stress that so many of us experience everyday. You can do just that with thousands of other Angelenos by participating in CicLAvia, an event that "opens LA streets to pedestrians and bicyclists, creating a temporary web of public space on which residents of Los Angeles can walk, bike, socialize, celebrate and learn more about their own city."
Inspired by Ciclovía, the original, weekly street closure event in Bogotá, Colombia, CicLAvia first took place in Los Angeles last October. This year, the event organizers are planning four CicLAvia events and the movement is quickly growing in popularity.

CicLAvia 2010. Photo from CicLAvia web site.
From Boyle Heights to Downtown, MacArthur Park to East Hollywood, 7.5 miles of roadways will be temporarily closed to car traffic and open for recreational purposes. In addition to walking or biking the routes, you'll find a wide array of CicLAvia related events scattered around the city, such as a Citrus Gleaning sponsored by Food Forward and Dodgeball games sponsored by The Eagle Rock Yacht Club and World Dodgeball Society. A wide variety of other activities are planned.
So leave your car behind and come on out and experience the city in a different way. You're bound to discover things you didn't know about the city's neighborhoods and develop new connections to, and a greater appreciation of, our diverse community. Best of all, you'll have fun doing it and benefit your health at the same time.
DETAILS
When: Sunday, April 10 from 10:00 a.m. to 3:00 p.m.
Where: Various locations around the city. Learn how to get to CicLAvia, including feeder bike rides, transit, and parking.
Maps of the CicLAvia Route
Activities:
Grand Opening Ceremonies

When:

9:30 a.m.

Where: Japanese American National Museum plaza, at First Street and Central Avenue, in Little Tokyo.
Who: Mayor Antonio Villaraigosa, Lance Armstrong, and many other local dignitaries will welcome participants and officially declare L.A.'s streets open!
Events
Dodgeball, music, dance and more. Find information here.
More Information: