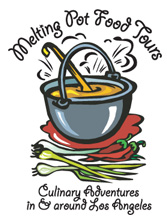 Recently some friends recommended the Old Pasadena Food Tasting Tour run by Melting Pot Tours. Since I love eating and neighborhood exploration, I decided to purchase two tickets for the Sunday, March 20, tour so my wife and I could become better acquainted with an area that we've enjoyed visiting over the years but didn't really know very well.
Our day began in downtown Los Angeles, since we opted to ride the Metro Gold Line to Pasadena rather than drive. For those who know me, this decision will come as no surprise, since I love trains and enjoy using public transportation whenever possible.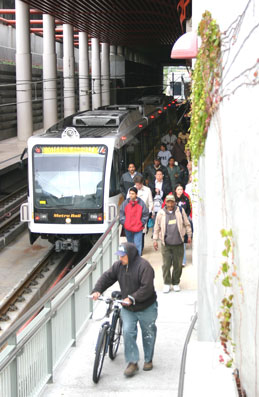 Memorial Park Metro Gold Line Station. Photo courtesy of Pasadena Dept. of Transportation.The trip was easy, fast and affordable, particularly since we didn't have to pay for parking once we arrived at our destination. Best of all, we were free to just look out the windows and enjoy the ride without having to worry about finding our way and navigating around the numerous road closures associated with the LA Marathon, which took place that same day.
We got off the train at the Memorial Park station and from there it was a short five-minute walk to the tour's starting point, where we met our guide and the other six tour participants. While our eight-person group was apparently smaller than usual, this proved advantageous because we were all able to fit under awnings to stay out of the rain as we periodically stopped along the 1 1/4 mile tour route to learn about the area's history and architecture.
I had expected our tour to be lead by either Lisa or Diane Scalia, the sisters who co-founded and run Melting Pot Tours. Instead, we were guided by Summer Davis, who was friendly and outgoing, and proved to be very knowledgeable about the foods we sampled, local architectural styles, the city's history and the story behind Old Pasadena's growth, decline and rebirth.
Old Pasadena is one of many parts of southern California that flies in the face of the adage "no one walks in LA." Although the heavy, constant downpour that we experienced on the 20th was not conducive to leisurely strolling and window-shopping, that is exactly what you'll find many people doing there on most days of the year. The area is filled with a wide variety of restaurants, independent shops and large retailers that offer something for everyone. Its hidden courtyards and narrow alleyways entice the curious and add a sense of adventure to those who take the time to really explore.
Adding to the area's appeal, Old Pasadena is well served by bus and rail service, so you can easily get there without a car. For those who prefer to drive or for whom public transportation isn't an option, public parking structures are available. In short – this is not your typical outdoor shopping mall, and the three and half hour Melting Pot Tour helped us appreciate some of the best that this area has to offer.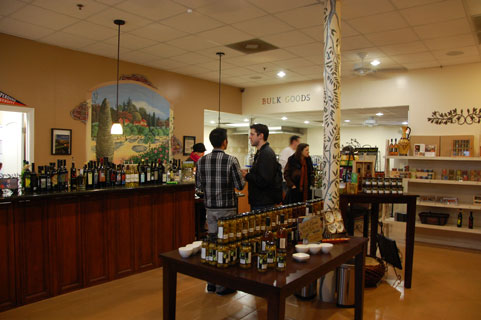 Sampling California olive oils at Beyond the Olive.
True to its billing as a culinary tour, the highlight of the day was sampling a range of tasty treats. We ate tortas (Mexican sandwiches), falafel, pollo saltado (a traditional Peruvian dish influenced by Peru's Chinese immigrants), and Mongolian beef, among other dishes. We also tasted a selection of California olive oils, sipped some wonderful specialty teas (perfect on a cold, rainy day), enjoyed superb gelato that embodied the perfect combination of flavor, texture and consistency and indulged in specialty, handmade chocolates. We also visited a handmade soap shop, where the owner explained her manufacturing process.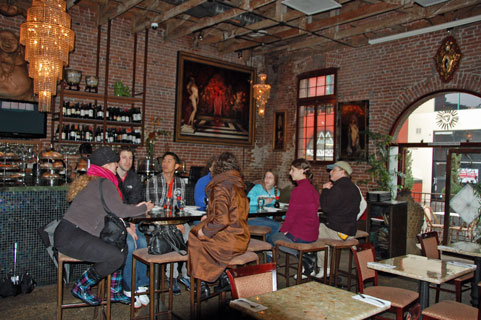 Getting ready to be served at Equator, an Asian fusion cafe.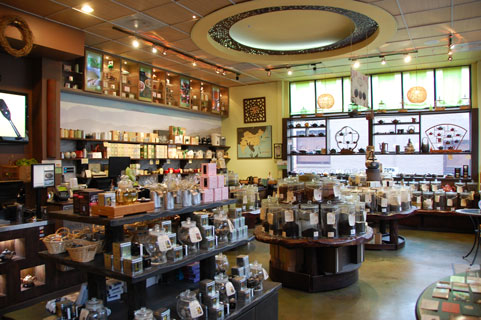 Bird Pick Tea & Herb.
One of the things I really liked about this tour is that it didn't focus solely on food. We also gained an appreciation for the area's history. As the name implies, Old Pasadena is the city's oldest commercial district. However, it was not always as economically vibrant as it is today. During the post WWII period, Pasadena and the rest of southern California experienced rapid suburbanization, characterized by decentralized development and the decline of downtown districts. As businesses opted to locate in other parts of the city, Old Pasadena became a shadow of its former self and eventually became known as the local Skid Row.
Fast forward to the 1970's, when the restoration and revitalization effort began. Since most of area's historic buildings were still intact because no one had wanted to redevelop the abandoned structures, the urban fabric and basic building blocks were in place to provide a solid foundation for the area's rebirth.
Today you'll find examples of Victorian, Art Decco and Spanish Colonial Revival architecture scattered throughout Old Pasadena, housing a variety of retail and commercial uses. The revitalization effort was so successful that today, the 22-block core includes two historic public parks – Central Park and Memorial Park – and is home to over 200 specialty boutiques and national retailers, as well as over 100 restaurants. You'll find a directory and map of these establishments here.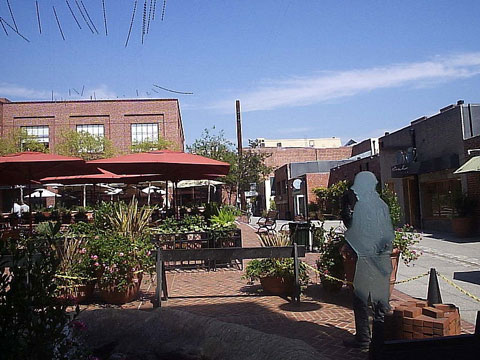 We also learned some interesting facts about the City of Pasadena. For instance, did you know that the name "Pasadena" is a Chippewa word meaning "crown of the valley," or that the city was founded by settlers from Indiana? This information helped provide a context for the tour and added to the overall value of the experience.
This is an excellent general interest food and history tour for locals and out of towners alike who want to learn about the rebirth of Old Pasadena and discover some of its best culinary treasures. I call it a "general interest" tour because the food you'll sample, while varied and delicious, is unlikely to challenge or surprise the adventurous eater. I don't say this to fault the tour, but rather to help set your expectations.
If you do plan on purchasing tickets for this tour, I have two suggestions. First, come hungry. Second, pace yourself – you'll want to try everything. Two of the restaurants we visited served us enough to make a complete meal, particularly since we'd already sampled a number of dishes along the way.
It's a sign of the Scalia sisters' success that they now run three tours. Their growing business includes the original Famer's Market and 3rd Street Food Tour, the Old Pasadena Tour and the latest addition to their schedule, a LA Latin Spice Food Tour. Based on our very positive experience last weekend, my wife and I plan on participating in these other culinary adventures. Hopefully we'll have better luck with the weather!
DETAILS
When: Every Saturday & Sunday from 10:30 a.m. to 1:30 p.m.
Where: Old Pasadena. Once you register, you'll be sent instructions on where to meet your guide.
Reservations Required: Make them online
More Information:
Tel: 424.247.9666
Email: info@meltingpottours.com