In 1987 the Los Angeles Conservancy began its program called Last Remaining Seats to focus attention on the movie palaces located in downtown Los Angeles' Broadway Historic Theatre District. Now in its 25th season, the Conservancy's highly successful series of classic films and live entertainment in historic theatres is back with an outstanding slate of films.
The popular summer tradition will open at the Orpheum Theatre (1926) with "Rear Window," the Alfred Hitchcock thriller made in 1954 starring James Stewart, Grace Kelly and Thelma Ritter. A wonderful selection of other classic pictures will follow, including:
The Music Man (1962) with Robert Preston at the Los Angeles Theatre (1931)

Captain Blood (1935) with swashbuckler Errol Flynn at the Million Dollar Theatre (1918)

King Kong (1933) with Robert Armstrong and Fay Wray at the Los Angeles Theatre

Zoot Suit (1981) with Edward James Olmos at the Million Dollar Theatre

Sunset Boulevard (1950), starring Gloria Swanson, William Holden and Nancy Olson at the Palace Theatre

Safety Last (1923) starring Harold Lloyd at the Orpheum Theatre
If you've never seen a film in one of these beautiful movie palaces, I highly recommend you participate in Last Remaining Seats. As the Conservancy so aptly states, the program will "enable you to experience classic films as they were meant to be seen: in beautiful, single-screen theatres filled with fellow fans, and accompanied by vintage short films, onstage interviews, and live performances."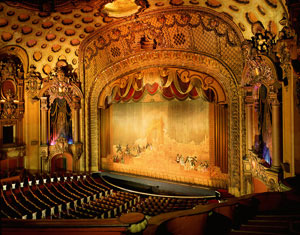 Los Angeles Theatre (1931) 615 South Broadway. Photo by Berger/Conser Photography via LA Conservancy web site.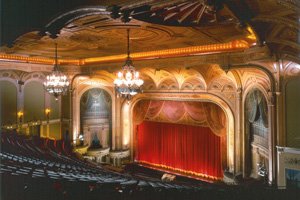 Orpheum Theatre (1926) 842 South Broadway. Photo by Berger/Conser Photography via LA Conservancy web site.
For those looking to enhance the experience even further, you might consider dressing in period fashion, dining at a nearby restaurant or enjoying a nightcap at a local bar. As Ed Fuentes writes at blogdowntown, for some, Last Remaining Seats "…has become date night with the city, offering a chance to dress up in 1930's and 40's fashion as a nod to the days when Broadway was the place to be seen." In his post, you'll find creative fashion suggestions for each film in the series, as well as recommendations for a night out on the town.

DETAILS
When: May 25 – June 29; Wednesdays at 8 p.m., plus bonus screenings Sunday, June 26 to celebrate the 100th birthday of the Palace Theatre.
Full Program Schedule: Visit http://laconservancy.org/remaining/2011.php4.
Where: All screenings in the Broadway Historic Theatre District of downtown Los Angeles. See schedule for exact locations.
Cost: Advance tickets $20 for general public, $16 for L.A. Conservancy members.
Tickets: Go on sale to Los Angeles Conservancy members at 10 a.m. on March 30 and to the general public at 10 a.m. on April 13, all at www.laconservancy.org. Advance tickets cost $20 ($16 for Conservancy members).
More Information:
Tel: 213.430.4219
laconservancy.org