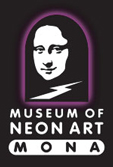 The Museum of Neon Art (MONA) has occupied several temporary spaces in downtown Los Angeles as it has looked for a permanent home. Now is finally has one. On March 22, it signed a lease agreement with the City of Glendale for a permanent space directly across Brand Boulevard from the Americana commercial center. This is exciting news for neon lovers everywhere and a very positive development for one of the LA area's unique arts institutions.
From an email to members:
The new 10,000 square foot museum site will open in 2012 and include permanent and rotating exhibition spaces, a neon fabricating facility, as well as a café and gift shop. Most importantly, it creates a permanent home for the Museum of Neon Art to fulfill its mission of "preserving, collecting, exhibiting and interpreting neon art," under one roof.

MONA will serve as the arts anchor for Glendale's new Cultural Arts District that spans from Colorado Blvd. to the south and the Alex Theater to the north. Designed by the Shimoda Design Group, the building's focal point is the dynamic glass light box and the soaring iconic Diver sign perched atop it that will become a landmark on Brand Boulevard.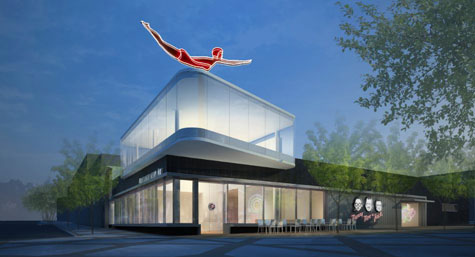 Front of Building (Image by Shimoda Design Group).