Intertwining dance and architecture has been a hallmark of LA based Heidi Duckler's choreography for several decades. A nationally recognized pioneer of site-specific dance, her company has produced more than 60 site-specific works in a wide range of locations, including Laundromats, LA City Hall and the Los Angeles River, just to name a few.
Heidi Duckler Dance Theatre's (HDDT) latest performance, entitled "A Trace of Lipstick", will express themes of shifting relationships among couples and be performed amongst the existing furniture in SPF:a Gallery. The audience will view the work in the round, giving it a voyeuristic character. Inspired by the TV series "Mad Men" and the hypocrisies of the early 1960's, the choreography explores duplicity, intimacy and the compartmentalizing of private lives.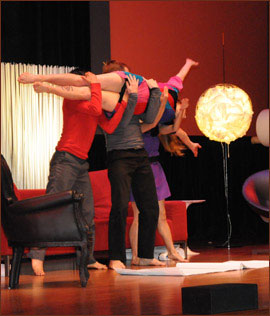 Photo via Heidi Duckler Dance Theatre web site
DETAILS
When: Friday, March 25 from 4:00 to 6:00 p.m.
4:00 p.m. – 
Heidi Duckler will give an artist talk and host a Q&A session about site specific performance. Students from the Academy of Visual and Performing Arts, Culver City High School will engage in composition activities with HDDT dancers.
5:00 p.m. – 
HDDT will perform "A Trace of Lipstick"
5:30 p.m.
 – Reception
Where: SPF:a Gallery, located at 8609 Washington Blvd. Culver City
Tickets: Purchase at the door: $10 / free to students
More Information:
Tel: 818-784-8669 (Heidi Duckler Dance Theatre)
Tel: 310.558.0902 (SPF:a)