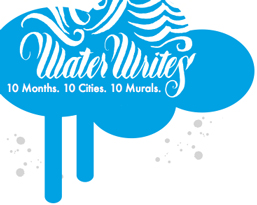 Anyone living in southern California knows that access to water has long been a central issue that has defined the region's development. Recognizing the importance of water related issues to southern California in general and the greater LA area in particular, the Estria Foundation selected Los Angeles as the site for the first of 10 Water Writes murals.
The Estria Foundation is an Oakland-based non-profit that raises social consciousness for critical human and environmental issues through public art projects. The Water Writes campaign, the Foundation's first major initiative, will travel to ten cities around the planet over the span of ten months, creating original murals that will express different perspectives of communities highly affected by water issues and use art as a global platform to raise awareness and inspire movement in the defense of water.
In Los Angeles, the Foundation tapped into the city's rich and vibrant street art community to ensure that the history and culture of East Los Angeles were incorporated into the mural. Partners included SPARC (Social and Public Art Resource Center), Mobile Mural Lab, Casual Play, Environmental Justice Coalition for Water, Friends We Love, Graffiti Saved My Life, Las Moscas Productions, Mictlan Murals, and Trust Your Struggle Collective.
So come out this weekend to see the public unveiling and naming of the Los Angeles Water Writes mural at KIPP LA, a charter school recently featured in Davis Guggenheim's "Waiting for Superman" documentary. As part of this event, KIPP LA Prep will host a pop- up community fair and Mobile Mural Lab will exhibit a mural cretaed by KIPP LA Prep students and offer other interactive art activities.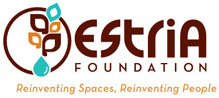 DETAILS
When: Saturday, March 19th
Public Unveiling and Pop-Up Community Fair – 1:00 p.m. to 4 p.m.
Where: KIPP LA Prep, located at 2810 Whittier Boulevard, Los Angeles, CA
Cost: Free
More Information: Available online at http://estria.org/waterwrites