With Kenny Burrell's 80th birthday fast approaching, it's an apt time to appreciate this elegant and seemingly ageless jazz master. A mainstay on the Southern California scene for more than 30 years, the guitarist taught the first university course on Duke Ellington at UCLA back in the early 1970s. Now head of the school's jazz program, Burrell leads a jam session at the Fowler Museum on Saturday with a glittering roster of fellow faculty, including trumpeter Bobby Rodriguez, vocalist Barbara Morrison, trombonist George Bohanon, drummer Clayton Cameron, saxophonist/flutist Justo Almario, bassist Roberto Miranda, and pianist Llew Matthews.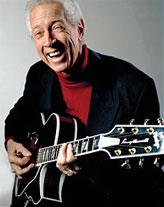 Photo via Fowler Museum web siteFamously cited by Duke Ellington as his favorite guitarist, Burrell is a second-generation bebopper who learned his craft in Detroit when the Motor City boasted one of the country's richest jazz scenes. Since breaking into the big leagues with Dizzy Gillespie in the early 1950s, he's maintained an improbably high standard, recording more than 100 albums with a parade of jazz giant, including tenor sax titans Coleman Hawkins, John Coltrane and Sonny Rollins, organist Jimmy Smith, singer Billie Holiday and vibraphonist Milt Jackson.
Usually heard with his working band, the jam session offers a rare opportunity to experience Burrell in a looser configuration. A dessert reception follows the jam session, which marks the opening of "Jam Session: America's Jazz Ambassadors Embrace the World," a photo exhibition at the Fowler Museum documenting State Department-sponsored tours by jazz legends Ellington, Gillespie, Louis Armstrong, Dave Brubeck, Benny Goodman and others from the mid-1950s through the 1970s.
DETAILS
Opening Night Concert and Reception for Jam Session: America's Jazz Ambassadors Embrace the World
When: Saturday, March 19 at 7 p.m.
Where: UCLA's Fowler Museum
Tickets: Available online via TicketMaster, by phone 310-825-2101, or in person at the Central Ticket Office Monday – Friday from 10 a.m. – 4 p.m.
$20 – General Admission
$15 – Current Friends of Jazz members, Fowler members, UCLA Faculty & Staff
$10 – Students
Note: online orders will incur a Tickemaster processing fee.
More Information: Available online
Recommended Albums:
____________
Jazz Pick of the Week is written by Andrew Gilbert. Andy is my brother and a prolific freelance writer whose primary focus is Jazz. You can find his articles in the Los Angeles Times, San Jose Mercury News, JazzTimes and many other publications. He will periodically contribute other articles to Curating Los Angeles and share his expertise and passion for the southland Jazz scene.