Looking for a weekend activity that will get you outdoors and teach you things you never knew about a local landmark? Then this tour of the LA River is for you.
Organized by Friends of the LA River and led by Jenny Price, the tour will make stops in the green Glendale Narrows (across from Elysian Park), the historic Arroyo Seco confluence, and the industrial downtown location that everyone has seen in movies and on TV. The group will eat lunch at a Boyle Heights taqueria (or you can bring your own) before heading into the even less well-known South – to the new Maywood Riverfront Park and the new Dominguez Gap wetland, with an optional hop to see the mouth at the Long Beach harbor.
Along the way, you will learn about the central role the river played in the city s history. You ll also gain an appreciation for the importance of its revitalization to the region s future.
Bring snacks and water, sun protection, and shoes that can get just a little wet (optional). Dogs welcome.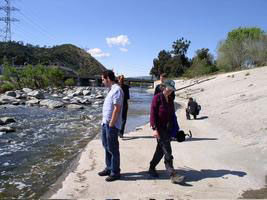 Photo via Friends of the LA River web site
DETAILS
When: Sunday, March 27
9:00 a.m.~5:00 p.m. (w/option to leave midday)
Where: The tour begins at the LA River Center & Gardens, located at 570 W Avenue 26, Los Angeles (near the 5/110) at 8:30 a.m. sharp for a 9:00 a.m. departure. The group will form carpools before departing.
You can reach the LA River Center & Gardens via the Metro Gold Line–Lincoln/Cypress station, W 3 blocks on Ave. 26, entrance on S side 1/2 blk after Figueroa.
Cost: $25 adults, $20 students/seniors/nonprofits, kid rates. Group and large-family rates available. Space is limited and advance sign-up required.
Tickets / Reservations: http://larivertourlatemar.eventbrite.com
More Information: Contact mail@folar.org or call 323-223-0585.