This weekend MOCA opens the first solo museum exhibition and retrospective of the work of Los Angeles-based artist William Leavitt (b. 1941, Washington, D.C.). The show will survey his 40-year career and include sculptural tableaux, paintings, works on paper, photographs, and performances drawn from the late '60s to the present.
While Leavitt and his work are not well known among the general public, myself included, he's considered one of the most significant and influential figures working in Los Angeles and has influenced generations of artists. Although those are reasons enough for me to see this show, I am also intrigued by this observation on MOCA's site: "The culture and atmosphere of Los Angeles has played a significant role in Leavitt's ongoing interest in "the theater of the ordinary" and the play between illusion and reality and nature and artifice that characterizes the city."
This really piqued my interest, because I'm always fascinated by the way in which artists are influenced by their surroundings – particularly when the place is Los Angeles. A selection of Leavitt's work follows, which clearly demonstrate the influence of place on his work.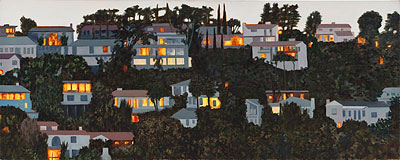 Hillside Lights (Incandescent) by William Leavitt. 2004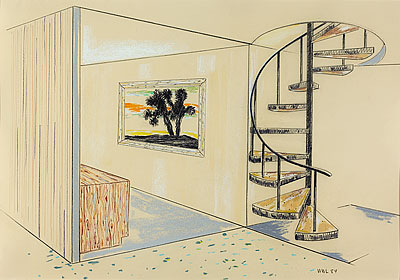 Interior with Cactus Painting and Spiral by William Leavitt. 1984
Theme Restaurant by William Leavitt. 1986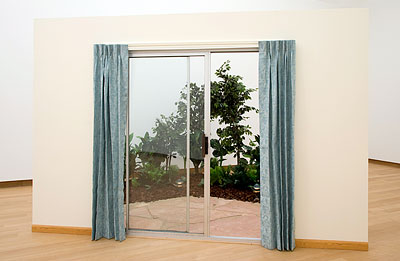 California Patio by William Leavitt. 1972
DETAILS
When:
Public Opening on March 12 from 7:00 to 10:00 p.m.
Opening Day Conversation on March 13 at 3:00 p.m.
MOCA Grand Avenue, Ahmanson Auditorium
Artist William Leavitt and co-curators Ann Goldstein and Bennett Simpson will discuss the artist's work and the exhibition.
Regular Museum Hours:

Monday from 11 a.m. to 5 p.m.
Tuesday and Wednesday: closed
Thursday from 11 a.m. to 8 p.m.
Friday from 11 am to 5 p.m.
Saturday and Sunday from 11 am to 6 p.m.
Where: MOCA Grand Avenue, located at 250 South Grand Avenue, Los Angeles
Cost:
Public Opening – Free / cash bar
Opening Day Conversation – Free with Admission
Regular Hours: Admission fee
More Information:
Exhibition Description: Available online
Tel: 213.621.1745
Email: education@moca.org