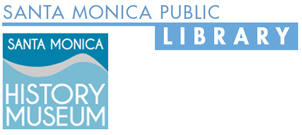 Given my penchant for seeking out some wild and crazy events going on around the greater LA area (did you read my piece about Lucha VaVoom?), it might surprise you to learn that I love hanging out in libraries and exploring local archives. That's why a workshop on preserving Santa Monica's history caught my eye.
Co-sponsored by the Santa Monica Public Library and the Santa Monica History Museum, the workshop will discuss the preservation of regional history through local resources, including the Library's digital collections archive "Imagine Santa Monica" and the Santa Monica History Museum's collections. In this case, "regional" means the history of the Santa Monica Bay area, which includes the City of Santa Monica and surrounding communities such as Pacific Palisades, Venice and Malibu.
The program is an opportunity for both institutions to present an overview of their respective holdings, which consist of photographs, maps, documents, letters and ephemera. It also enables the Santa Monica History Museum to highlight its new location on the Library campus, which affords the general public, as well as professional and amateur historians alike, easy access to both collections and the opportunity to benefit from synergies derived from the shared facility.
If you're fascinated by history like me and you want to learn what two local institutions are doing to preserve the past and make their collections accessible to the public, you'll likely find this workshop well worth your time. If you do attend, also be sure to check out the Museum's permanent exhibit entitled: Santa Monica: A Journey into an Extraordinary Past.
DETAILS
When: Saturday March 26, 2011, beginning at 1:00 p.m.
Where: Santa Monica Public Library – Main Library (Martin Luther King Auditorium), located at 601 Santa Monica Blvd, Santa Monica
Cost: Free
More Information:
To reach the Library's Archives and Digital Collections, please call 310-434-2608.
To reach the Santa Monica History Museum Collections, please call 310-395-2290.