The Return of the Crystal Silence Duets
Chick Corea and Gary Burton continue their long time musical collaboration and conversation with upcoming performances in Los Angeles and Costa Mesa. You can learn about the pianist and vibraphonist in Andrew Gilbert's article and related blog post, which appeared today in the print and online editions of the Los Angeles Times. Details related to the two performances are listed below, as are recommended recordings.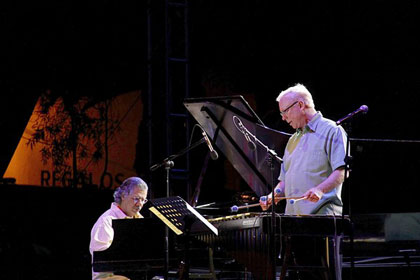 Chick Corea, left, and Gary Burton. Photo by Andrew Elliott via Los Angeles Times web site.
DETAILS
Orange County Show
When: Friday, March 4th at 8 p.m.
Where: Segerstrom Center for the Arts, Costa Mesa
Tickets: Available online or by phone for $25-$82
More Information: 714.556.2787
Los Angeles Show
When: Saturday, March 5th at 8 p.m.
Where: UCLA, Royce Hall
Tickets: Available online or by phone for $43-$83 ($15 UCLA students)
More Information: 310.825.2101
Recommended Recordings
____________
Andrew Gilbert is my brother and a prolific freelance writer whose primary focus is Jazz. You can find his articles in the Los Angeles Times, San Jose Mercury News, JazzTimes and many other publications. He will periodically contribute other articles to Curating Los Angeles and share his expertise and passion for the southland Jazz scene.