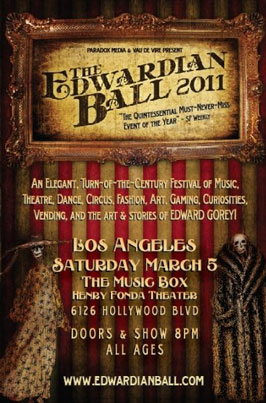 For those Edward Gorey admirers out there, here is an event that is sure to please. Billed as "an elegant and whimsical celebration of art, music, theatre, fashion, technology, circus, and the beloved creations of the late, great author [and illustrator] Edward Gorey" (1925-2000), The Edwardian Ball is coming to Los Angeles this weekend for only the second time.
This year the Ball's co-hosts, Rosin Coven and Vau De Vire Society, will present Edward Gorey's The Eleventh Episode live on stage with original music and choreography. During the evening, they will be joined by a diverse group of performers from the northern and southern California underground music, dance and performance art scenes.
Participants in the evening's festivities include:
This event will take place at The Music Box in Hollywood, formerly known as the Henry Fonda Theater. Originally built as a movie house in 1926 and designed by Morgan, Walls, and Clements in the Spanish Colonial style, The Music Box has been transformed into a thriving venue for bands that have outgrown smaller clubs but are not yet ready for larger arenas. You can learn about this theater/club's fascinating history here.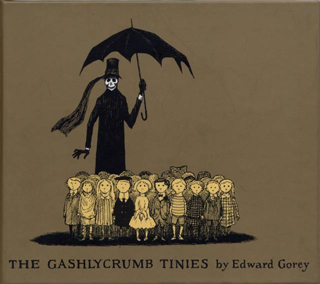 If you're wondering who Edward Gorey was and why he inspired a multi-media festival of arts and culture, perhaps a little background information will make things clear. Gorey became known for his often macabre illustrated books featuring pen and ink drawings of Victorian and Edwardian settings, such as The Wuggly Ump, The Gashlycrumb Tinies and The Doubtful Guest. He also made a name for himself through his animated introduction to the PBS series Mystery! and his costume designs for the 1977 Broadway production of Dracula, for which he won a Tony Award. His work is popular with children and adults alike and has long had a cult following. The Edwardian Ball brings all things Gorey to life in a fun, stylish, sometimes dark and often humorous event suitable for all ages. Audience participation is always encouraged.
I can't make the Ball due to a previous commitment, but if you go, please let us know what you think by leaving a comment below. Have fun….
DETAILS
When: Saturday, March 5 from 8:00 p.m. to 2:00 a.m.
Where: The Music Box (Henry Fonda Theater) 6126 Hollywood Blvd. Los Angeles
Tickets: Available online
More Information:
Tel. 323-464-0808