The Los Angeles Art Association (LAAA) is one of the city's oldest art institutions. Founded in the 1920's, its original mission was to bring together elite art interests with Hollywood collectors. After World War II, it became the center of Los Angeles modernism and today, LAAA continues to play a vital role in the region by providing opportunities, resources, services and exhibition venues for emerging Los Angeles artists.
This weekend, the Los Angeles Art Association opens its latest exhibition called Fast Living, an all-media exploration of self-indulgence juried by Elizabeth East, Director – LA Louver. In addition to Fast Living, artists Susan Arena, Linda Kunik and Dan Monteavaro will be featured in solo exhibitions.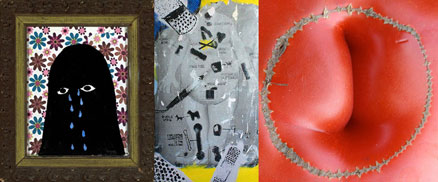 Susan Arena's Imaginary Homelands features recent paintings inspired by a line from the 2004 movie Garden State: "Maybe that's all family really is. A group of people that miss the same imaginary place."  Imaginary Homelands explores various conceptions of home as a place that is dark, funny, and filled with desire, both spiritual and sexual. Arena's paintings, when taken together, tie to a greater narrative, with characters and places that turn up over and over again. She uses found materials – bits of lace and pieces of quilt – that conjure home, but are then transformed and co-mingled with painted figures. Paint finds its way out of the canvas, out onto the frame itself, which shows that the paintings, while about imaginary homelands are also very much tactile objects that hang on people's walls.
 To slightly modify a quote by Jose Bergamin, a Spanish writer, essayist, poet and playwright: "To be hungry and eat is the perfection of sensuality rarely achieved."
Linda Kunik's provocative Ripe exhibition features close-up, abstracted C-prints of tomatoes and other vegetables, at their most sensual, and at their most sexual. The photos are not an end in themselves, but rather serve to unfold a more complex knot of concerns about life, pleasure, sensuality and sexuality. Vegetables have a sensuality all their own, but Kunik skillfully exaggerates their sensual characteristics in this new body of work.
Dan Monteavaro's new body of work Pixel Tenement explores urban locations and items as a process of documenting emotional landmarks.  The pixel-like paintings convey the sense that almost all memories and experiences are becoming increasingly tied to the manner in which information is received and its relevancy (i.e. television, computer, etc). The images range from landscapes to iconic images. Along with the paintings, Monteavaro will also feature partially painted and partially destroyed cast concrete pieces along the perimeter of the gallery to accentuate the emotive environment for the work.
DETAILS
When: February 26 – March 25, 2011
Opening reception: Saturday, February 26, from 6-9 p.m.
Gallery hours are 10 a.m. – 5 p.m., Tuesday – Saturday or by appointment.
Where: Los Angeles Art Association / Gallery 825
825 North La Cienega Blvd.
Los Angeles
Admission: Free
More Information:
Tel: 310.652.8272
Email: gallery825@laaa.org
Web: www.laaa.org