After several friends and I purchased tickets to see Lucha VaVoom's Valentine's Day show at the Mayan Theater (read my review here), we decided it made sense to start the evening with an early dinner. The question was, where to eat? As I considered various options, I had two primary objectives. First, to find someplace with good food that none of us had tried before and second, to select a restaurant that's walking distance to the theater so we wouldn't have to move our car. As you'll see, I accomplished both objectives.
I made a pre-show dinner reservation at a local Brazilian restaurant called Woodspoon, located downtown in the Fashion District just a few blocks from the Mayan. Although people apparently have to wait a long time to get in on weekends, we arrived at 5:30 right when they opened for dinner and were the first ones seated.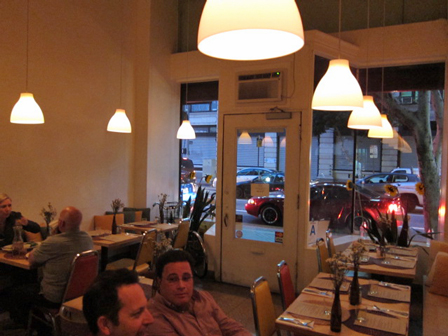 Once inside the small, intimate space, we settled into a cozy corner table and were immediately served chilled, cinnamon infused water, which was delicious. Since the "secret" to this beverage was a large cinnamon stick soaking in the carafe, my friends and I all agreed we'd have to try serving this at our homes. It's such a simple way to add a new dimension to any meal.
Because I had read great things about Woodspoon's homemade chicken potpie and our waiter said it was one of their signature dishes, I decided to order it. Served with a nice side salad, the potpie was very good. Opening up the flaky, buttery crust revealed a creamy filling of chicken, hearts of palm, olives and corn. Unlike most other restaurant and commercially produced potpies that I've eaten over the years, this one was neither too sweet nor too salty. I also appreciated that the restaurant didn't supersize the potpie. Since I'm no expert on Brazilian cooking, I can't tell you whether this dish is true to the country's culinary heritage, but in any case I found my meal very satisfying.
Although I didn't order any other items, I did try my friends' meals. Of particular note were the beet salad, consisting of purple beets, tomato and avocado, with lime, olive oil and cilantro, which was very tasty, and the yam fries, which were excellent. We concluded the meal with rice pudding and Brazilian flan. While, in my opinion, dessert is not this restaurant's strong point, we all enjoyed the desserts and they helped end our meal on a sweet note.
As for parking, we had several choices near Woodspoon. Since we planned to leave the car after dinner and walk to the theater, we chose to park in a surface lot located across the street from the restaurant. While it turned out to be a little more expensive than others situated closer to the theater ($6 vs. $3-$5), it was actually nice to have a short walk prior to our meal when we were hungry and a little longer one after the show when we needed to stretch our legs and give our backs some relief. You'll understand this last comment after you read my review of My Kinky Valentine, Lucha VaVoom's Valentine Day show.
As it turned out, Woodspoon was an excellent choice for dinner and I've added it to my list of good downtown restaurants. Whether you're heading to a show at the Mayan or looking for somewhere new to try before an event at Staples Center or LA Live, this would make an excellent choice.