On February 9th three friends and I headed into downtown LA to celebrate Valentine's Day. Yes, we all knew that the actual holiday was still a few days away, but since Lucha VaVoom was in town, we didn't want to miss their My Kinky Valentine show at the Mayan Theater.
If you haven't heard of Lucha VaVoom, it's a show that combines Mexican wrestling (that's the "Lucha" part of the name) with burlesque (you guessed it – that's the "VaVoom"). Lucha VaVoom likes to call it "Sexo Y Violencia"!

When we arrived at the Mayan after dinner at Woodspoon (read my restaurant review here), we were immediately greeted by the first spectacle of the evening. Lucha VaVoom's producers cleverly start the show even before you enter the building. As we waited in line to pick up our tickets and then get through security, a variety of cool hot rods and low riders, some shooting flames out their exhaust pipes, drove up to the theater entrance and dropped off the luchadores (wrestlers) and burlesque performers. Each car was unique, as were the flamboyant costumes worn by the performers. As if that wasn't enough to build excitement, some audience members were dressed in luchador costumes or burlesque type outfits. This made for quite a scene and definitely helped set the tone for things to come.
Since we had purchased general admission tickets, we made a point of arriving close to 7:00 p.m., when the doors open, to find good seats. We chose to sit upstairs, which had its advantages and disadvantages. On the plus side, we had an excellent view of the stage, the theater interior and the many screens placed around the auditorium. The screens were used before the show to display cheesy Lucha Libre movies, which kept us entertained as we waited. During the show, they provided birds-eye-views of the action in the ring and displayed comic book like onomatopoeic sound effects (something along the lines of "pow, crunch, qunckkk") to emphasize the impact of various wrestling maneuvers. As I said before, Lucha VaVoom knows how to entertain.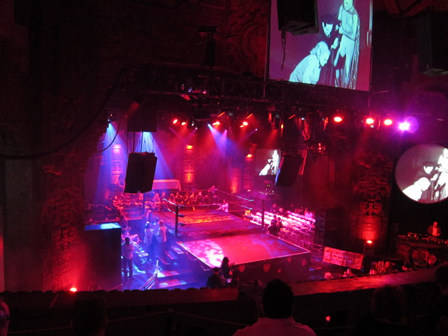 While the balcony afforded great sightlines, the hard bench seating gave me a major backache and an extremely sore butt. Keep this in mind if you ever go to a show at the Mayan – particularly if it's a long one like Lucha VaVoom (approximately 3 hours including intermission).
Another advantage of arriving early was having plenty of time to really take in the theater's fantastic interior. The Mayan was built in 1927 as a movie palace and designed by Los Angeles based architect Stiles Clements (1883 – 1966) in the Mayan Revival style. The ornate, Mayan inspired interior sculpture and exterior façade were created by Mexican painter and sculptor Francisco Cornejo (1892 – 1963). Clements also designed the beautiful Belasco theater located right next door.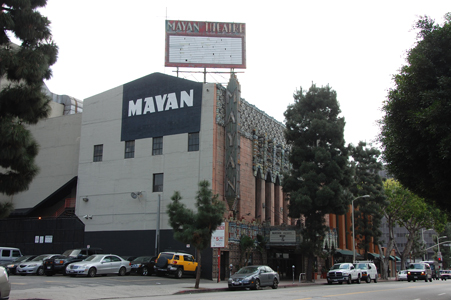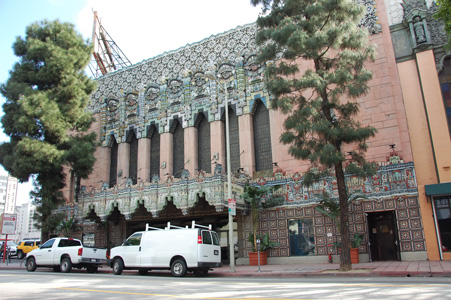 Photo by Wendell Benedetti
Lucha VaVoom is an extravagant show that combines Lucha Libre, burlesque, comedy and pop / rock music to create a wild, highly physical, performance art spectacle. To the producers' credit, they don't assume that everyone in the audience knows what Lucha Libre is all about, so before the show begins, they provide a brief explanation via a video presentation.
In short, Lucha Libre, which means free fighting or free wrestling in Spanish, is a form of professional wrestling that developed in Mexico. It became a recognized sport in 1933 with the advent of the Empresa Mexicana de Lucha Libre (Mexican Wrestling Enterprise), now known as the Consejo Mundial de Lucha Libre (Worldwide Wrestling Council). During the 1950s, the sport grew in popularity as television became a broad-based entertainment medium and dramatically expanded its reach within Mexico.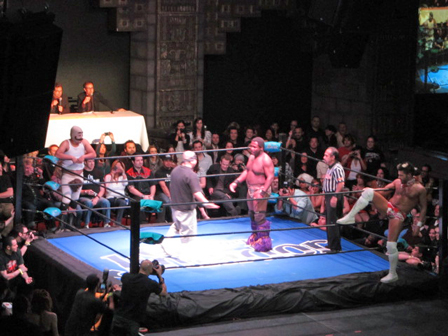 Li'l Cholo and Chocolate Caliente in the ring. Dirty Sanchez near the left corner, Joey Ryan on the right.The Lucha Libre style of wrestling is characterized by acrobatic maneuvers and a rapid series of holds and movements – all performed in what I'd call a comic book style. By that I mean the fighting is highly exaggerated and looks fake. During the four or five bouts that we watched, Luchadores with names like Dirty Sanchez, Li'l Cholo, Chocolate Caliente and Li'l Chicken wrestled one on one and in two or three man teams.
Traditionally, Luchadores fall into one of two categories: técnicos (good guys) and rudos (bad guys), and wear flamboyant costumes that are an integral part of their professional persona. This dichotomy between good and bad encourages the audience to take sides and the Luchadores play this up throughout the matches – egging on the crowd to either cheer or boo.
Of all the wrestlers that we watched, my favorites were Lil Chicken, Chocolate Caliente and the Crazy Chickens. They all had the right combination of attitude, moves and comedic timing that made for a rollicking good time.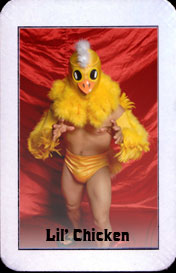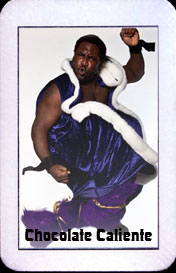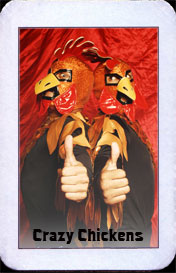 Photos via Lucha VaVoom web site.
Since Los Angeles has played a central role in the revival, updating and resurgence of burlesque (formally called neo-burlesque), it's very fitting that LA based Lucha VaVoom integrates this tradition into the show. In between bouts, seven different striptease acts entertained the crowd. Most, but not all, were female and they strutted their stuff to a variety of music. Given all the hooting and hollering, the crowd seemed to love every minute of it. Of all the acts, I thought Michelle L'amour and the androgynous Karis were the best – L'amour because her act was the perfect combination of "strip" and "tease" and Karis because he had the Cirque du Soleil moves with his hula-hoop.
The show was emceed by two comedians, Blaine Capatch and Dana Gould, whose colorful commentary kept things lively throughout the evening. Beside providing comic relief both during the wrestling bouts and between acts, they also continually reminded the audience to visit the many bars located throughout the theater, all of which were selling el Jimador tequila, an official sponsor of the event, among other beverages.
One of the things that I really liked about this event was the degree to which it encouraged audience participation; indeed, the show worked best when the crowd was engaged with the action on stage. Whether it was Blaine Capatch yelling "Lucha" so the crowd could respond with "VaVoom" or the wrestlers waving their arms as if to say "come on – give me more support," there was always some way to interact with the performers and get involved in the show. Speaking of the audience, Lucha VaVoom draws a diverse crowd that reflects the makeup of contemporary Los Angeles.
All in all this was a fun night out. We found a new restaurant that I'd definitely return to and saw a show that was unlike anything I have seen before. While I've definitely had my fill of Mexican wrestling (or any wrestling for that matter) for quite some time, I'm glad that I experienced Lucha VaVoom.