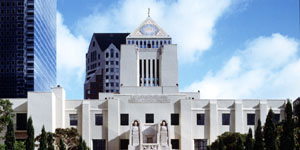 Central Library Building. Photo via library web site.The Los Angeles Historical Society and the History Department at the Richard J. Riordan Central Library are co-sponsoring three lectures on the theme: Architects and Architecture of Los Angeles: From Adobe to High-rise. Three local experts will deliver lectures that focus on distinct time periods between 1781 and today.
Presented as part of the 19th Annual Marie Northrop Lecture Series, the schedule for this event is as follows:
Lecture One
Period Covered: 1781 to 1900
Date: Saturday, February 19
Speaker: Kevin Roderick – Author, Journalist, Radio Commentator
Notable Publications:
Lecture Two
Period Covered: 1900 to 1950
Date: Saturday, April 16
Speaker: Thomas Hines – Architectural Historian, Author, Professor (Joint appointment in the Departments of History and Architecture & Urban Design at UCLA)
Notable Publications:
Lecture Three
Period Covered: 1950 to the Present
Date: Saturday, June 18
Speaker: Kenneth Breisch – Historian, Author, Assistant Professor and Director, Historic Preservation Programs at USC
Notable Publications:
DETAILS
When: February 19, April 16 and June 18 from 2:00 to 4:00 p.m.
Reception, book-signing and door prizes following the lectures.
Where: The Mark Taper Auditorium of Central Library
630 W. 5th Street Los Angeles between Grand Avenue and Flower Street.
Parking: Library Garage on Flower Street (one way south) between 5th and 6th Streets. $1 from 1:00 p.m. with library card, available that day, and validation.
Cost: Free
More Information:
Central Library
Tel. 213.228.7400 (History Department number)