Two new exhibitions are coming to the Southern California Institute of Architecture (SCI-Arc), located in downtown LA. Since they don't open until early February, I haven't seen of either of them yet. However, I am very intrigued by their descriptions and look forward to visiting the school so I can check them out in person. It sounds like I'm in for two thought-provoking and challenging experiences. If you happen to see either of these shows before me, please leave a comment on this site letting us know what you think.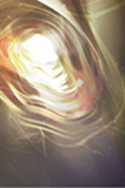 Photo from SCI-Arc web site
Out of Memory
Patrick Tighe with composer Ken Ueno and fabrication by Machineous
February 4 – March 13, 2011
In early February, SCI-Arc will open a new exhibition called Out of Memory by Los Angeles-based firm Patrick Tighe Architecture. Tighe and his design team worked collaboratively with composer Ken Ueno, who created a site-specific composition, and fabricator Machinous, to offer an experience at the convergence of sound, material, light, form and technology. Its soundscape is integral to the experience and used to explore the spatialization of sound within the physical boundaries of the SCI-Arc Gallery.
"Out of Memory is unabashedly self-invented, in pursuit of an answer without a real question," says Tighe. "Memory is used as a vehicle to inform the work, and the familiar is the impetus from which the project originates."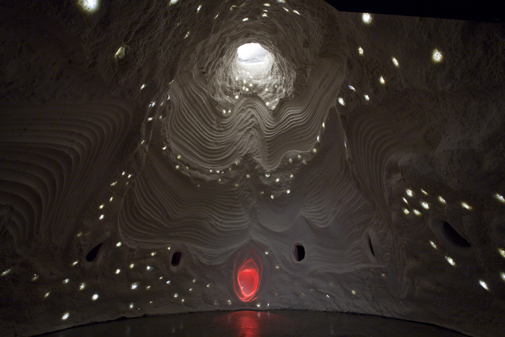 Photo by Joshua White. Courtesy of SCI-Arc.
Out of Memory Special Events:
Friday, February 4, 7-9pm: Opening reception in the SCI-Arc Gallery
Friday, February 18, 7pm: Exhibition discussion with Architect Patrick Tighe and SCI-Arc Director Eric Owen Moss
________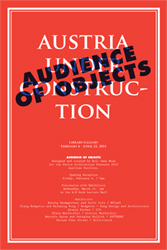 Image from SCI-Arc web site
Audience of Objects
February 4 – April 22, 2011
Also opening early next month at SCI-Arc is the exhibition Audience of Objects, designed and curated by Eric Owen Moss, which is composed of six projects previously "seated" in the Austrian Pavilion of the 2010 Venice Architecture Biennale. One portion of the exhibit utilized standard scaffolding to construct a stepped seating system that was used to mount multiple models designed for the event by faculty/student teams from schools of architecture around the world. The Audience of Objects transposed the conventional positioning of observer [seated attendees] and observed [performers on stage].
The six projects on view in the Library Gallery are by SCI-Arc faculty members, including Herwig Baumgartner and Scott Uriu of BplusU, Craig Hodgetts and Hsinming Fung of Hodgetts+Fung Design and Architecture, Alexis Rochas of I/O, Elena Manferdini of Atelier Manferdini, Marcelo Spina and Georgina Huljich of Patterns, and Hernan Diaz Alonso of Xefirotarch.
Audience of Objects Special Events:
Friday, February 4, 7–9 p.m.: Opening reception in the Library Gallery
Wednesday, March 16, 7 p.m.: Discussion with exhibitors in the W.M. Keck Lecture Hall
SCI-ARC EXHIBITION DETAILS
Where: You will find both exhibitions at the Southern California Institute of Architecture, 960 E. 3rd Street
 Los Angeles, CA 90013
Cost: free of charge
More Information:
The SCI-Arc Gallery is open daily from 10am–6pm. Lectures, talks, and discussions are broadcast live online at www.sciarc.edu/live/
Parking and admission are free. No reservations are required.
Tel. 213.613.2200