Right on the heels of photo l.a., which is still going on at the Santa Monica Civic through Monday the 17th, is the 16th Annual Los Angeles Art Show – a centerpiece of the countywide Los Angeles Arts Month that runs though the end of January. The event features painting, sculpture, works on paper, photography and video, plus over 100 prominent galleries from around the globe.

Of particular interest to me this year is the focus on contemporary Asian art. One component of this "show within a show" is called China Today, comprised of a curated exhibition, film screening and lectures accompanied by a contingent of prominent Chinese galleries – a majority of whom have never displayed works outside of China. A special exhibit, 'Three Walkers – Crossing Over', presented and curated by Mr. Hu Zhen of the Guangzhou-based 53 Art Museum and sponsored by the prominent Asian art magazine Art Gallery Magazine, features celebrated artists Feng Feng, Liu Qing-yuan and Qin Jin. This part of the show promises attendees a unique opportunity to see firsthand a selection of art being created today in China.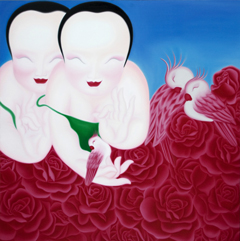 Tong-Zhengang – The Happiness. Via LA Art Fair web site.
Notable Asian-American galleries from the US, along with galleries from Korea and Taiwan, will also participate in the Art Show: a rare opportunity to view Asian Art from Asia juxtaposed with Asian Art from America. Korean and Chinese artists will be present during the show to discuss their work and The Los Angeles Art Show will offer curator-guided exhibition tours in Korean and Mandarin.
Additional curated project spaces include: The Sister Cities of Los Angeles International Art Exhibition, Vox Humana, Flora Kao's Ghost Grove presented by the Los Angeles Art Association and Rarely/Unseen: A Private Collection of Photographs by Henri Cartier-Bresson.
Finally, I want to mention that The International Fine Print Dealers Association's (IFPDA) Los Angeles Fine Print Fair, now in its 26th year, will take place within the LA Art Fair. Print Fair exhibitors will offer engravings, etchings, and lithographs encompassing the broad scope of the medium's history and at varying price points.
DETAILS
When:
Wednesday, January 19, 2011 (Opening Night Premiere Party – see below for details)
Thursday, January 20, 2011, 11 a.m. – 8 p.m.
Friday, January 21, 2011, 11 a.m. – 8 p.m.
Saturday, January 22, 2011, 11 a.m. – 8 p.m.
Sunday, January 23, 2011, 11 a.m. – 5 p.m.
Opening Night Premiere Party
Wednesday, January 19, 2011
Benefit and Private Viewing – Be the first to preview art from 100 top galleries and enjoy culinary delights and specialty beverages courtesy of LA's finest restaurants. Ticket proceeds will enable The Art of Elysium to expand its program to bring art to critically ill hospitalized children. It will also fund visits for students from Los Angeles area schools to the Getty Museum, through the J. Paul Getty Museum Education Department's fully-subsidized Title One bus transportation program.
Where: Los Angeles Convention Center
West Hall A, 1201 South Figueroa Street Los Angeles, CA 90015
Tickets: Available online
iPhone App: Visitors to the Los Angeles Art Show will be able to view art on their mobile devices with the free Los Angeles Art Show iPhone app. To download the app, visit iTunes and type in Collectrium or visit www.collectrium.com/iphone.
More Information: To contact the event organizers, please visit their Contact page here.