We live in a world where photographic imagery and new media representations are all pervasive. So what better way to explore photography's relationship to contemporary culture and to the other arts than to spend a day, or two, or three at photo l.a, the country's largest photo-based art exhibition and sale featuring photography, video and multi-media installations.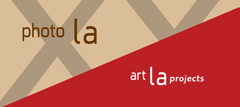 Now in its 20th year, photo l.a. once again promises to be a highlight of the year's local arts scene. With over 50 exhibitors from around the world, you'll be exposed to a wide variety of work from both established and newly emerging photographers. You can also attend an interesting selection of lectures, seminars, and panel discussions featuring an impressive lineup of photographers, collectors, publishers, critics, gallery owners and dealers, among others.
While this event promises a lot to see and do for adults, children are not forgotten. A group called Little Collector, which works to inspire the next generation of art lovers, is hosting a child friendly lounge where they'll work with kids to create illustrated books to help keep them engaged.
So come to Santa Monica and learn, observe, collect and just have fun. Perhaps you'll even go home with that perfect photograph for your home, office or special someone in your life.
DETAILS
When:
Thursday to Monday, January 13-17, 2011
Opening reception: Thurs., Jan. 13, 6 – 9 p.m.
Friday – Sunday, 11 a.m. – 7 p.m. (public hours)
Monday, 11 a.m. – 6 p.m.
Where: Santa Monica Civic Auditorium
1855 Main Street Santa Monica, CA 90401
323.458.8551
Schedule: Programming Overview
Tickets: Purchase online
General Information:
info@artla.net | info@photola.com
323.937.5525 telephone