When I found out several months ago that my wife would be going out of town for a weeklong business trip starting on January 9th, I thought we should do something fun the night before her departure.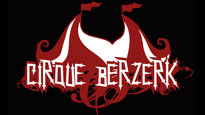 In the hunt for just the right activity, I discovered that Cirque Berzerk, LA's own circus troupe, was opening its 2011 Los Angeles engagement at Club Nokia on the same weekend. I'd wanted to see them for several years, so I bought two tickets for the Saturday, January 8th show.
We headed into downtown for an early dinner. Since we've already eaten at some of the restaurants at LA Live, most notably Katsuya, I wanted to try something different, yet still be walking distance to the LA Live entertainment complex where Club Nokia is located.
After looking around online, I found Zucca Ristorante and made a reservation. Part of Joachim Splichal's Patina Restaurant Group, Zucca is a moderately priced Italian bistro located at 801 South Figueroa Street, just down the street from LA Live.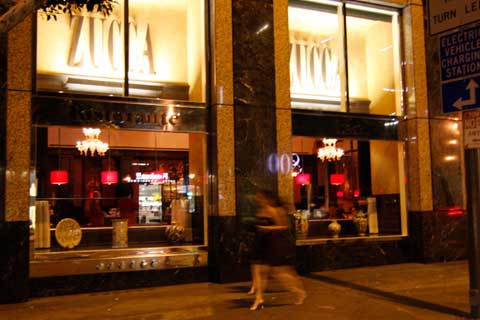 Photo via Patina Restaurant Group web site
We decided to share two of the daily specials and had a thoroughly enjoyable meal. The mushroom risotto and lingcod with green beans and white asparagus entrees were both very tasty, as was the apple tart dessert – yum! My only complaint was that they poured somewhat stingy glasses of wine. Despite that minor annoyance, I would definitely return to Zucca, particularly if I were going to some other event at LA Live.
After dinner we made the short walk down Figueroa to Club Nokia. This was my first time in this venue and overall I really liked it. The bars on both levels are large and easily served the crowd. They are also both backlit with cool red lighting (I've heard they can change the colors) that helped set the mood for the evening. As for the seating, we were upstairs in the balcony and had a pretty good view of the stage, save for the very front, which was obscured behind the balcony's front edge. If I could do it over again, I'd spring for seats on the lower level so I could look at, rather than down on, the performers and see the entire stage.
As much as I liked the theater, to call it a club is somewhat of a stretch, since Club Nokia seats upwards of 2,300 and to me, the term "club" implies a more intimate setting. I also wonder how this venue compares to those used by Cirque Berzerk in the past. From what I've heard, last years show at the Los Angeles State Historic Park had a great vibe owing in part to the way they used the grounds (picnicking, carney food, etc.) and the fact that the circus itself was performed in an actual big top tent. Since I didn't experience those previous shows myself, I can only tell you that Club Nokia seemed to accommodate this years Cirque Berzerk fairly well. Yes, Club Nokia has a corporate, polished feel to it, but it worked for me. You'll have to decide if the venue is a turn off.
Whatever you think of the building, I think the Cirque Berzerk crew did a great job creating a special atmosphere. As soon as we entered Club Nokia I knew we were in for a unique experience. Cirque Berzerk has a definite aesthetic, call it post gothic punk, and it was evident even before the show began. From the tables of Cirque Berzerk themed clothing and jewelry to the performers in full Cirque costumes who roamed the lower level bar to engage with unsuspecting audience members, we began an immersion into a highly stylized, visually arresting world.
The Cirque Berzerk troupe deftly blends elements from the burlesque and vaudeville traditions with psychedelia to create an audiovisual mash-up that I found utterly captivating. It's a sexier, rougher, darker and grungier theatrical experience than your typical, wholesome, family fun circus. In short, this is a circus for adults.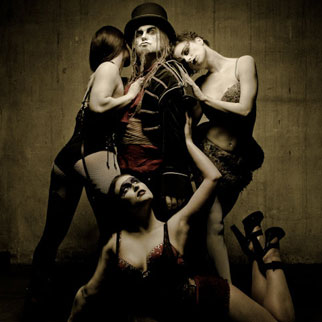 Photo via Club Nokia's Cirque Berzerk listing
Conceived by Kevin Bourque and Suzanne Bernel at Burning Man, Cirque Berzerk features an array of impressive aerialists, contortionists, dancers, singers and clowns, not to mention offbeat antics and strange happenings. Integral to the production is an outstanding score performed live by a talented group of musicians. While we couldn't see the band from our seats, we were continually aware of their presence and significant contribution to the show's overall impact.
Of all the acts, my favorite was the one that featured four performers and two side-by-side trampolines. The men began the act standing upon a wall positioned between two large trampolines. Then, individually and together in various combinations, they bounced from wall, to trampoline and back to the wall; or from trampoline to trampoline over the wall. The grace with which these acrobats performed their various maneuvers was awe-inspiring. At times it was like watching snow boarders doing aerial tricks on a half pipe, particularly when they would bounce off a trampoline and then run up the wall as if defying gravity.
If you're looking for a unique, entertaining night out that's unlike anything else in town, I definitely recommend Cirque Berzerk. You can catch a show now through the end of January.
One last comment. If you plan on driving to this event, you'll have many parking options to choose from. Since we ate at Zucca Ristorante, we opted to park in the Joe's Auto Parks lot right next door to the restaurant. We entered the lot off of South Figueroa Street between West 8th Place and West 8th Street. Parking was a breeze and affordable at $5.00 for the night. We picked up our car after the show. Very easy.
Video Note: This YouTube video includes scenes from previous Cirque Berzerk shows. Ignore the dates at the end of the clip.
DETAILS
When: January 7 through January 30, 2011
Where: Club Nokia
800 West Olympic Boulevard Los Angeles, CA 90015
(213) 765-7000
Tickets: Available online through ticketmaster
More information: Cirque Berzerk